July 30, 2012
Eylea could put Regeneron in the black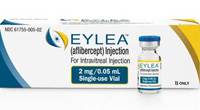 Second-quarter results show that Regeneron may indeed be on track to reach profitability, and macular degeneration drug Eylea is a big reason why.
The company reported $304 million in revenues for the quarter ended June 30, compared to $108 million for the same period last year. The spike included soaring product sales, which reached $200 million for the period ended June 30, a triple-digit percentage increase over the $5 million in sales the firm posted for the same period last year. The company's 2011 annual report said this could be the year it edges into the black, thanks largely to Eylea.
"The Eylea launch continues to progress extremely well and is driving sales and earnings growth," Regeneron president and CEO Leonard Schleifer said in a statement Wednesday. The macular degeneration drug played a significant role in the company's positive outlook, and the company raised expectations for sales to reach between $700 and $750 million for the year, compared to initial estimates of between $500 and $550 million. The FDA approved the drug in November 2011.
The company hired a task force of 75 individuals last year to support the drug's launch in the field, including regional sales directors, sales specialists and reimbursement managers. The company is also poised to launch in Japan, and inked a co-promotion deal with Santen in May in anticipation of approval.
Previous results show the company
has been taking market share
away from Genentech's drug Lucentis, which has lost ground not only due to Eylea, which often requires fewer doses, but also because of off-label use of Genentech's sister drug,
Avastin
.
Scroll down to see the next article