September 04, 2012
Forest's one-a-day IBS drug Linzess to take on Amitiza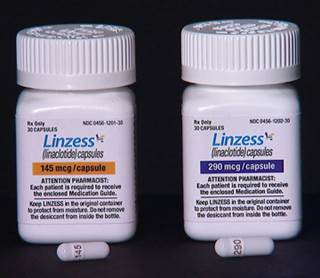 Forest and Ironwood's IBS drug Linzess (linaclotide), which won FDA approval last week for treatment of chronic constipation and irritable bowel syndrome with constipation, is expected by some analysts to become a blockbuster.

The drug's once-daily dosing and other features of its label, says Leerink Swann, advantages it over Takeda/Sucampo's Amitiza, along with Novartis' Zelnorm, which was withdrawn in 2007 due to cardiovascular safety concerns. Those advantages, the firm said, include: "a mechanism specifically citing effects on visceral pain; data citing significant reductions in abdominal pain; once-daily versus twice-daily dosing; and no limit on treatment duration." Knowledge and opinion leaders, the firm added, see the abdominal pain data and mechanism as likely to establish it as the standard for moderate-to-severe IBS with constipation.

Linzess is the first of a class of drugs called guanylate cyclase-C agonists, thought to work by increasing an enzyme, cyclic guanosine monophosphate, shown to decrease the activity of pain-sensing nerves. Its approval follows Phase III trials of more than 2,800 adults that showed significant reductions in abdominal pain and increased bowel movement frequency in both groups of patients.

It's not entirely without possible safety issues. Deaths of juvenile mice in non-clinical studies raised a red flag, and in the absence of pediatric studies, the drug is not indicated for use in patients ages 6-17.
Scroll down to see the next article