April 22, 2014
Lilly's cancer drug ramu granted gastric indication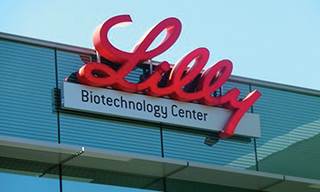 Lilly's advanced gastric cancer injection, Cyramza (ramucirumab), received US approval today, the drugmaker announced. Lilly Oncology picked up the cancer asset from imClone in 2008 and was granted orphan drug designation by FDA for today's approved indication.
Cyramza's approval is a unique one, as it's the first drug of its kind cleared for use in advanced or metastatic gastric cancer and gastroesophageal junction adenocarcinoma (cancer of the esophagus).
Cyramza was approved from results of Lilly's Phase-III REGARD trial, which saw the drug improve median survival by 5.2 months compared to placebo (3.8 months).
In an investor note from February, ISI Group analyst Mark Schoenebaum modeled that the drug could see peak sales of $600 million solely from its gastric indications.
Ramucirumab operates in a similar fashion to Roche/Genetech's Avastin, by targeting a tumor-created signal protein, VEGF. Avastin saw overall sales of $7 billion in 2013, up 13% from the year prior.
Following in Avastin's blockbuster-sized footsteps, Lilly has investigated ramu for use in non-small cell lung cancer as well as colorectal cancer. The drug was also in trials for breast cancer earlier this year, but failed to meet its primary endpoint. Top line results for ramu in liver and colorectal cancer are expected in 2014.
Lilly announced in February that ramu had completed its Phase-III trial in non-small cell lung cancer and would file for the indication this year. Schoenebaum modeled at the time, that if approved, this could translate into another $200 million in peak sales.
Schoenebaum also forecasted that second-line indications in metastatic colorectal cancer and hepatocellular carcinoma (liver) cancer could add another $200 million in peak sales.
Scroll down to see the next article