June 08, 2011
Mad Men's Hendricks named the face of the LATISSE Wishes Challenge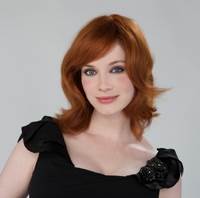 Emmy-nominated actress Christina Hendricks, of Mad Men fame, has signed on as the spokesperson for the LATISSE Wishes Challenge, co-launched by Allergan, LATISSE's manufacturer, and the Make-a-Wish Foundation. For the second year running, the pharma company and the non-profit have teamed up to raise money on behalf of the foundation, with this year's goal of raising $500,000 to grant a wish in every Make-A-Wish chapter across the country.
"I've always felt my lashes were short and thin, and in my profession, I wear a lot of false lashes and makeup, which take a toll. So when LATISSE became available, I was curious to learn more," said Hendricks in a statement. "LATISSE is also a brand that contributes to children, and I couldn't think of a better cause to support than the Make-A-Wish Foundation."
Consumers can participate in the Challenge by donating a minimum of $20 to the Make-a-Wish Foundation through the campaign's website. LATISSE will double all donations up to $250,000 until November 30 of this year. For extra incentive, the first 10,000 participants to commit to the minimum donation will receive a LATISSE free trial certificate, which they can then discuss the benefits of with their doctor.
"Allergan is proud to continue its commitment to the Make-A-Wish Foundation," said David Pyott, Chairman of the Board, President and CEO of Allergan, in a statement. "In just two years, LATISSE and the women across the country who use it have raised nearly $1.5 million to help the Make-A-Wish Foundation grant children's wishes. Women appreciate supporting a brand that gives back and that may also provide a solution for themselves. Through the LATISSE Wishes Challenge, women will join Hendricks to support a wonderful cause and learn more about LATISSE to see if it is right for them."
Scroll down to see the next article