March 01, 2013
Razzed for lax DTC self-policing, PhRMA accentuates the positive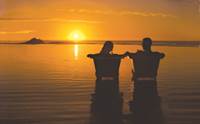 PhRMA issued a terse response to a study claiming that ED drug advertisers more or less ignored the trade group's Guiding Principles for Direct to Consumer ads, a self-policing regime implemented in 2005 to fend off talk of a ban on drug ads.
The study, which appeared in The Journal of Health Politics, Policy and Law last week, discounts the upside of DTC advertising, said PhRMA, asserting that its members "have voluntarily exceeded the legal requirements regarding submitting advertisements to FDA for review" and expressing encouragement that the study "found high compliance by biopharmaceutical companies in describing safety information about medicines, which is an important feature of the PhRMA Guiding Principles." The trade group "will continue to evaluate how it captures complaints" and remains "committed to enhancing the reporting function."
Titled "The Politics and Strategy of Industry Self-Regulation: The Pharmaceutical Industry's Principles for Ethical Direct-to-Consumer Advertising as a Deceptive Blocking Strategy," the study examined advertising for three ED drugs—Pfizer's Viagra, Lilly's Cialis and GSK/Bayer's Levitra—for the four years from 2006 through 2009, and found what the authors characterized as "a consistent pattern of non-compliance." It included an examination of Nielsen Monitor-Plus TV tracking data that showed "children were exposed to sexually-themed promotional messages more than 100 billion times." That would be a violation of PhRMA Guiding Principle No. 16, which says TV and print ads containing content inappropriate for children "should be placed in programs or publications that are reasonably expected to draw an audience of approximately 90% adults."
The study also found that ads were largely compliant with accuracy, balance, condition and risk disclosure requirements (Principles No. 2 and 13) and spelled out in text—but not sound—that the product was a prescription drug (No. 4). However, the ads failed to furnish disease awareness information (No. 17) or information about alternative treatments (No. 12) and, with the exception of some Viagra print, on help for the uninsured (No. 18). The authors found the reading-level expectation in the ads, which they said required high school completion, to be too high, noting that the average US adult's reading ability is at the eighth- or ninth-grade level and that 20% read at a fifth-grade level or lower.
Authors Denis Arnold (an associate professor of management at UNC Charlotte) and James Oakley (an associate professor of marketing at Montana State University) said they wrote PhRMA and the individual companies to ask about any compliance actions related to the ads and received no response.
"Our conclusions provide evidence to support the idea that self-regulation can be utilized as a way to prevent new governmental regulations while allowing companies to engage in practices consonant with their independent strategic aims through a collective blocking strategy," they wrote in the study. Among their proposed remedies is a fee-per-ad-broadcast to be levied against prescription drug advertisers and used for a sort of advertising counterpart to counter-detailing, in which the fees would fund the dissemination of "plain-language information about the benefits, harms and cost of the drugs advertised as well as information about the condition and nonpharmacological treatment options" by the National Library of Medicine.
It's a jeremiad, to be sure, and nitpicky enough that much of its findings could be challenged. But taken at face value, it's also a pretty damning assessment of a self-regulatory scheme that was criticized from the start as being toothless.
A spokesperson for Lilly, maker of Cialis, said: "It is difficult to comment on the study's results without fully understanding the study design and methodology. However, we take PhRMA's Guiding Principles very seriously when creating and launching DTC ads. In addition, as a company responsible for developing new, innovative medicines, Lilly is committed to providing advertising that is truthful, accurate and balanced. To that end, we work diligently to adhere to internal standards, FDA requirements and PhRMA's Guiding principles when designing and launching DTC communications."
Cialis was last year's most-advertised prescription drug brand, spending nearly $163 million promoting the drug to consumers in 2012, according to Nielsen data. Pfizer spent $108 million on Viagra.
Pfizer said in a statement: "At Pfizer, we believe that patients benefit from information about diseases and medical treatment options because when they learn about symptoms and therapies, they can engage in a more informed discussion with their health care provider. One way that disease and treatment information is made available is through direct-to-consumer (DTC) advertising. With regard to advertising Pfizer's intent is to always comply with the laws, regulations and codes that govern these activities, including, but not limited to FDA and PhRMA advertising guidelines."
Scroll down to see the next article