February 27, 2014
Regulators split difference over diabetes meds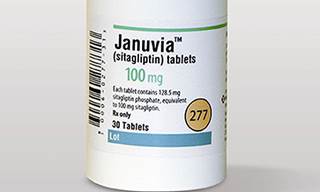 The FDA and European Medicines Agency released a report that neither acquits the incretin class of drugs of a possible connection to pancreatitis or pancreatic cancer, nor urges the medical community to walk away from them.
The agencies, as reported in the New England Journal of Medicine, said they have "not reached a final conclusion at this time regarding such a causal relationship," but that "pancreatitis will continue to be considered a risk associated with these drugs until more data are available." Both regulators assert data collection will continue.
The joint assessment comes almost a year after a report published in the Journal of Internal Medicine noted a possible tie between the diabetes medications, which include Merck's Januvia and Novo Nordisk's Victoza, and inflammation that could lead to scarring and liver damage. The study triggered a closer look from US and European regulators, but did not put the industry's diabetes market into an immediate or even long-term tailspin.
Sales of Novo Nordisk's Victoza actually jumped 27% in 2013, compared to 2012, and the company asserts in its 2013 annual report that this one drug controls 71% of the GLP-1 market share. Although the growth has been global, North America was the lead driver for Novo's overall business. This growth is despite what CEO Lars Sorensen describes in the company's 2013 annual report as patient anxiety over reports that its GLP-1 may have negative associations.
Merck's Januvia franchise lost some steam in the second, third and fourth quarters (it saw a 1% uptick in Q1 2013 compared to Q1 2012), but the drugmaker attributed the drug's slowed performance to market pressures, like Japan's uniform DPP-4 price cuts, as opposed to pancreas-centric concerns among physicians or patients. The 2013 Internal Medicine study did not cause concern during its second quarter call, and the American Diabetes Association told MM&M at the time that the study did not prompt a wave of patient calls asking about the drug's possible pancreatic risk.
The FDA and EMA's Thursday article noted that each regulator independently assessed the potential link between pancreatitis, pancreatic cancer and incretins using lab animal tests and reviewing patient safety data. The FDA reviewed data from more than 200 clinical trials which included about 41,000 patients. Of this patient pool, more than 28,000 received an incretin-base drug, and the EMA took a similar look at its trials. The regulators found "small imbalances in the incidence of pancreatitis were reported in premarketing trials, although the overall number of events was small."
Regulators also reviewed two cardiovascular outcome trials and found a low number of reported rates of acute pancreatitis and a small difference between incretin- and placebo-group patients. The SAVOR cardiovascular trial, for example, reported 22 cases of acute pancreatitis among incretin patients vs. 16 in the placebo group, while the EXAMINE trial had a split of 12 and eight. For pancreatic cancer, SAVOR's split was five cases among drug-receiving patients and 12 among placebo patients, and the EXAMINE trial had 0 cases among drug and placebo groups.
Scroll down to see the next article