October 28, 2009
Sanofi card trick draws warning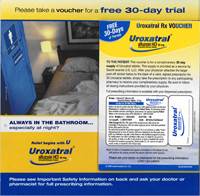 A promotional card for Sanofi Aventis's Uroxatral omitted indication and risk information, and also used outdated product labeling, according to a DDMAC warning letter dated October 23 and posted online yesterday.
The front side of the "
tent card
" reads "Always in the bathroom…especially at night?" and "Relief begins with U," without providing a full indication for the drug. "These statements misleadingly imply that Uroxatral is approved for…any condition that keeps the patient in the bathroom, such as overactive bladder. Uroxatral is only approved for use in the treatment of the signs and symptoms of benign prostatic hyperplasia (BPH)," the
letter
said.
Although risk and indication information was printed on the back of the card, DDMAC determined that viewers are unlikely to see it. "The tent card is designed to be adhered to a flat surface (e.g., a pharmacy counter) and as a practical matter, viewers of the front side of the card are unlikely to be able to view the back side of the card once it is stuck in place," according to the letter.
DDMAC noted a statement on the front of the card directing viewers to safety information on the reverse side, but said the omissions "cannot be corrected" by referencing the back of the card. Information on the back of the card also failed to include an "important warning and precaution regarding Intraoperative Floppy Iris Syndrome (IFIS)," the letter said.
As a result, Sanofi must halt dissemination of the cards, and provide a written response to the letter by November 6, 2009.
Scroll down to see the next article