September 09, 2016
Already ahead in race to first-line approval, could second-line domination be far behind for Keytruda?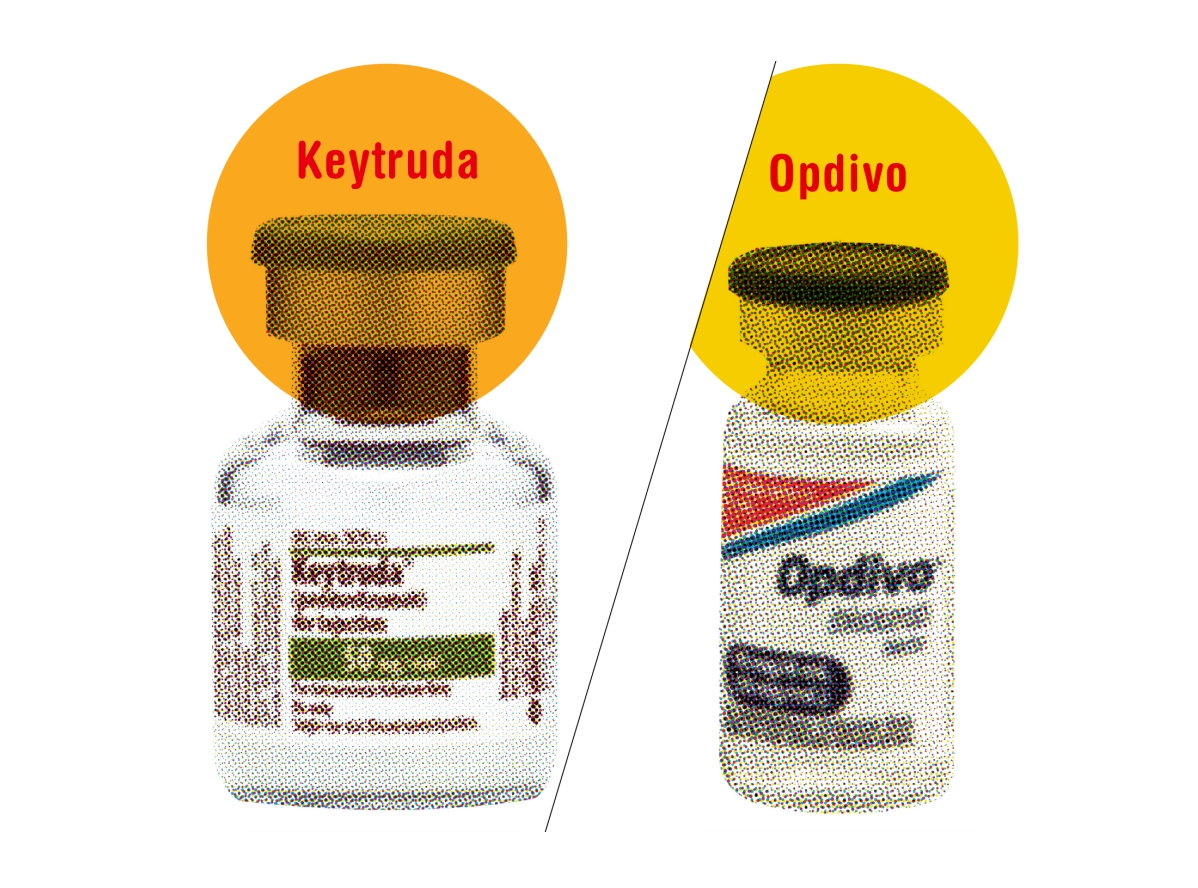 This story has been updated.
Merck's Keytruda is currently losing its battle with Bristol-Myers Squibb's Opdivo in the second-line treatment of non-small cell lung cancer patients. But the biomarker testing requirement for Keytruda — long thought to be what's dragging down the immuno-oncology drug's sales — may not act as a hurdle for much longer.
That is, assuming Keytruda gets approved as a first-line treatment — a subject of speculation right now as its December PDUFA date nears — new patients with the tumor type would then begin their PD-L1 testing earlier, effectively turning the testing requirement into an advantage which could not only level the playing field between Keytruda and Opdivo in the second line, but tip it in Keytruda's favor.
See also: Opdivo bet backfires, creates opening for Merck to pursue DTC
So goes the thinking of Bernstein's Tim Anderson, according to a note the analyst issued earlier this week breaking down the scenario.
The speculative money is on Merck right now, as FDA's recent rejection of Opdivo in first-line therapy suddenly knocked BMS's lung plans back at least a year, and thrust Keytruda into the lead in that race to approval.
Yet Merck still lags its rival in the setting in which both are currently approved, second line, and the stakes for the drugmaker are quite high: about $400 million. That's the current deficit Merck faces in that setting. Opdivo brought in $942 million in sales in 2015, while Keytruda saw sales of $566 million during the same year.
By Anderson's calculus, a first-line Keytruda approval could help a number of factors fall into place for Merck. The drug's increasing awareness among physicians, its less frequent dosing, and the pre-existing testing status of patients all could conspire to set the drug up for success in the second line, too.
See also: Bristol-Myers Squibb's Yervoy, Opdivo combo data confers edge in lung cancer
Back when the lines were drawn between these two immuno-oncology treatments, one of the major differences between them was that patients considering Keytruda have to first undergo testing for the PD-L1 protein.
Keytruda is now on pace to become approved as a first-line therapy before Opdivo, due to a recent development setback, when the drug failed to meet its primary endpoint in a Phase-III trial. Keytruda received Breakthrough Therapy Designation as a first-line treatment earlier this week, and has an FDA decision date of December 24.
As Anderson explained in the investor note from Tuesday, Keytruda's testing requirement may no longer be a disadvantage for the drug in the second line. "The majority of newly-diagnosed lung cancer patients will be tested for PDL1 status...when these groups fail chemotherapy, as the majority will, and move onto second-line treatment, their PD-L1 testing status will be already known," Anderson wrote, "and if they did not receive a PD1 in the first-line, [these patients] will most likely see a PD1 in the second line."
There are three factors that will make oncologists more likely to prescribe Keytruda over Opdivo in the second-line setting going forward, Anderson wrote. First, oncologists will already have a patient's PD-L1 testing data available to them — eliminating that initial obstacle. Second, oncologists are more likely to be already familiar with Keytruda as, if it is approved in the first line, it will have already been a treatment option. And, lastly, Keytruda has a less onerous regimen — it's dosed every three weeks compared to Opdivo every two weeks.
"Keytruda suddenly becomes a very viable option when reaching for a PD1 in [the second-line setting]," he concluded.
See also: Bristol-Myers Squibb turns to DTC to promote Opdivo
Bristol-Myers Squibb is already considering other strategies to retain its market share in the I/O sector. BMS spokesperson Audrey Abernathy said in an email that the company believes that Opdivo's "proven survival benefit regardless of PD-L1 expression will continue to position us for a strong second line opportunity in non-small cell lung cancer."
She added the company's experimental combination of Opdivo and Yervoy may also provide the drugmaker with an "opportunity to address the needs of patients with first-line non-small cell lung cancer, a setting in which we always anticipated diagnostic testing would play a role."
Scroll down to see the next article