October 07, 2014
Five things for pharma marketers to know: Tuesday, October 7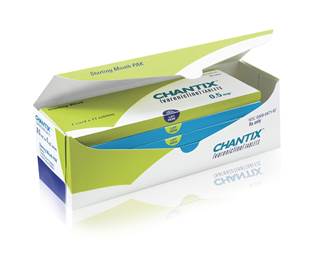 Pfizer has settled nearly 2,900 lawsuits for smoking cessation aid Chantix, The Birmingham News reported late Monday. The drugmaker will pay $300 million to resolve claims that Chantix triggered psychological problems in patients, including suicidal thoughts, a federal judge in Alabama ruled. News of the ruling comes as Pfizer has pursued a less severe warning label for the drug after an analysis of five studies, conducted by the drugmaker, which reportedly show that the drug does not increase suicidal thoughts or actions compared to placebo.
Bristol-Myers Squibb has changed FDA-submission plans for its hep. C virus combo of NS3A/4A protease inhibitor asunaprevir with NS5A complex inhibitor daclatasvir, the company wrote in a statement Tuesday. The drugmaker will continue to pursue approval of daclatasvir on its own, but not as a combo with asunaprevir. The company cited the "rapidly evolving hepatitis C treatment landscape," in its decision to scale back this segment of its infectious disease drug development.
Media company Advanstar is being acquired by United Business Media (UBM) for $972 million, the event and publishing company reported recently. Among the 30 or so titles associated with the Advanstar imprint are Medical Economics, Pharmaceutical Executive and Drug Topics. The transaction is expected to close at the end of 2014. UBM is the erstwhile publisher of MedAdNews and R&D Directions, two long-running brands it eliminated at the end of 2013.
An anonymous source has accused French drugmaker Sanofi of bribery. Bloomberg reports that Sanofi alerted the US Department of Justice and the Securities and Exchange Commission about the allegations, which amount to claims of improper payments associated with Mideast product sales between 2007 and 2012. Sanofi is among a host of drug manufacturers that have been accused of misconduct, including GlaxoSmithKline and Eli Lilly.
The FDA continues to defend its approval of the controversial prescription pain medication Zohydro, most recently in the Viewpoint section of the Journal of the American Medical Association to make its case. Written by three FDA officers including Janet Woodcock, who directs the FDA's Center for Drug Evaluation and Research, the officials explain that they approved the hydrocodone bitratrate extended release medication "against the backdrop of increasing opioid overdoses and an advisory committee recommendation against approval" because the drug met "the current safety and efficacy standard for approval." The trio also argues in the editorial that focusing only on Zohydro, as opposed to what they say is the real concern--the spike in opioid-related death and abuse--is not the way to address these issues. Instead, they write that the solution requires efforts that go beyond regulatory efforts and should include a multifaceted approach by states, professional organizations, medical boards, non-profits and clinicians, among others.
Scroll down to see the next article