February 20, 2014
Advil hearts menstrual cramps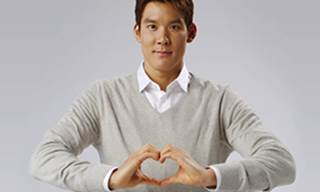 In what seems an unusual marketing approach, Advil's South Korean consumer website is representing menstrual pain with a heart. At least, that's what's depicted on the Pfizer online property.
What's more, the heart is being formed by a man, in this case Olympic swimmer Park Tae-Hwan, who is shown making the symbol with his hands to demonstrate so-called "period pain" (pictured).
Tae-Hwan takes the body language metaphor further, depicting other types of pain the NSAID purports to address: his hands at his temples (headache), a hand brushed up against a cheek (dental pain, or toothache), and arms behind back (back pain).
As to the connection between a heart and menstrual pain, which, after all, is a feminine problem, or why the drugmaker chose to cross gender lines and get a man for the job, Pfizer offered the following statement: "Advil helps consumers relieve minor aches and pains due to headache, backache, toothache, menstrual cramps, muscle aches, minor pain of arthritis, the common cold and temporarily reduces fever. It is available in over 45 countries."
Tae-Hwan—or "Marine Boy"—as he's sometime referred, is a member of the South Korean national swimming team. He won a gold medal in the 400-meter freestyle and picked up a silver medal in the 200-meter freestyle at the 2008 Summer Olympics in Beijing.
Pfizer launched Advil's Liqui-Gel formulation in South Korea this past December. Worldwide sales for Pfizer's consumer healthcare unit came in at $943 million for 2013, a 2% increase vs. the year prior.
Scroll down to see the next article