October 07, 2014
Nearly half of consumers wary of healthcare costs, insurer finds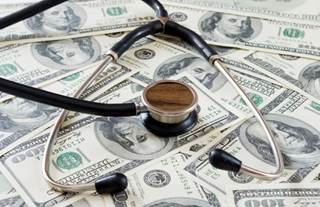 Health insurer Cigna asked just over 1,847 people about their health and although 54% of consumers told the payer they feel like they've got their health costs and concerns in check, 46% said they are worried about whether their income will be able to keep pace with their healthcare needs.
Cigna said this 46% represents a critical patient group because of the larger implications, writing, "we cannot effectively improve health and well-being in this country while half of consumers are not able to make management of their own health a top priority."
Called "health worriers" by Cigna, this 46% indicated their financial concerns include multiple stress points. For example, 66% said they feared healthcare costs could cause financial ruin, 75% worried that healthcare would threatened their ability to save for retirement and 33% said they have sometimes had to avoid healthcare costs so they could buy food or pay rent. Optimism that that things would change is somewhat lacking, depending on age.
Cigna found that middle-age (as in 45 to 54) consumers were less confident than any other age group that their current financial situation was going to improve, burdened with financial concerns including covering college tuition and an economic outlook that doesn't look like it will do much for boosting retirement funds.
Younger consumers tended to be more optimistic, and also more open to getting outside guidance about their health. Unsurprisingly, this group was also open to tools like apps and 24/7 nurse services, and were also attuned to social feedback about services.
Consumers between the ages of 25 and 34 were also more open to having payers help with tasks such as meeting health targets, while the overall population was more resistant: 46% of people polled told Cigna they did not want the insurer's help in managing a condition, 48% said "no thank you" to programs that would help them meet goals like weight loss or smoking cessation, and 55% said they did not want a manager's help with health-related finances.
Yet the insurer found that incentives—particularly cash and lower premiums —helped prod patients to use wellness plans, which are generally low-cost interventions. Researchers found that although younger patients are more open to this sort of positive reinforcement, they also work well with older patients.
Scroll down to see the next article