December 16, 2014
Pfizer brings humor to menopause marketing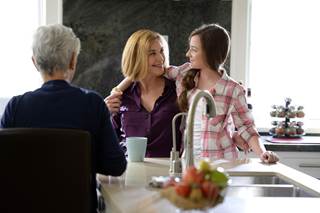 Pfizer is adding humor to the battle over the post-menopause prescription market. Launched last week the "Let's talk about change" campaign is a departure from the company's recent "Tune into Menopause" campaign that featured Kim Cattrall. It is also a departure from the glamorous-even-as-we age shots featured in the Shionogi's promotions of its prescription menopause drug Osphena.
Instead, Pfizer has embraced age with a nod to the awkward with a YouTube video called "The Other Talk" that shows actress Brenda Strong as a mom trying (and failing) to talk with her daughter about upcoming physical changes, and then trying to avoid a similarly uncomfortable discussion with her own mother about the physical changes that accompany menopause, as in, a daughter not wanting to hear about her mother's sex life, let alone menopause. The unbranded site includes a link to Pfizer's menopause drug Estring.
Pfizer's VP of US promoted brands Brenda Raphael told MM&M that the campaign's humor addresses a serious issue. "Our market research shows that women are very familiar with the hot flashes [and] night sweats, but all the other changes that may be associated with menopause such as painful sex, vaginal atrophy . . . are really unheard of" she said, unless a woman talks with her doctor or a friend happens to share the information.
Raphael said the idea behind the Edelman creative centered "around who talks to you about this? Right? Who tells you about these things?"
She said research encouraged the marketing team to shoot for humor because it can ease a discussion about what can be "an embarrassing topic for some," and a lighthearted tone "invites women into the conversation."
The site and the video talk focus on women in their 50s, but Raphael described as "the sweet spot for this is women around or in their late 40s," and said the campaign could spark discussions or even awareness among the younger women. She said awareness among this additional age group would be helpful because the impact menopause can have on a women's sexual health "truly is a surprise for many women."
She also noted that "The Talk" and other conversations about menopausal symptoms other than temperature-related ones are having a moment of sorts, due to a cultural shift that includes national discussions about women's health as well as local, one-on-one discussions among friends and patients. "I think 10 years ago it wasn't even on the radar screen, or if it was, it was very much in a narrow audience of OBG/YNs and specialists," she said.
Raphael said the company has looped in professionals about the DTC promotion. She said this is a typical Pfizer practice, so doctors know what ads their patients may have seen, and to provide them with a way to talk to their patients. She said professional feedback has been positive, and that the campaign makes it easier to "open up a conversation" with their patients.
Scroll down to see the next article