November 30, 2012
Sanofi picks Perkins to head Diabetes Co-Stars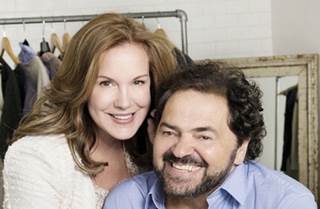 Sanofi has recruited actress Elizabeth Perkins, who has type 1 diabetes, to serve as the face of its Diabetes Co-Stars awareness campaign.
The Weeds actress will work on a documentary featuring people with diabetes and their caregivers, who can submit their stories in videos or written entries to the campaign website, DiabetesCoStars.com, and nominate their "co-star," defined as "the person in their life who has made the biggest impact on their personal diabetes journey." For Perkins, that would be her husband, director and cinematographer Julio Macat.
Perkins uses Sanofi's Lantus SoloSTAR.
Perkins, who will star in the upcoming ABC sitcom How to live with your parents, said in a statement: "I am partnering with Sanofi US to share my story through Diabetes Co-Stars and I look forward to hearing from others about their unique experiences living with diabetes and learning about the encouragement they receive from their own co-stars."
Her doctor, David Kayne, MD, said "I always recommend to my patients that they reach out for support to help them manage their diabetes, as Elizabeth has done with her husband Julio. Elizabeth's story is the perfect example of how valuable a strong support system is in a person's overall diabetes treatment plan."
The "casting call" runs through mid-December. Two teams of winners will be announced at the end of January. They'll be judged "on their ability to inspire others through their story of support in diabetes management."
Sanofi's Diabetes Co-Stars campaign launched in 2010. Previous iterations of the campaign featured father/daughter actors Paul and Mira Sorvino.
Celebrity campaigns are a standard trope of diabetes drug marketing. Southern food queen Paula Deen plugs Novo Nordisk's Victoza, while football great Mike Golic serves as the face of Merck's unbranded Blood Sugar Basics campaign.
As part of this year's campaign, Sanofi is sponsoring the Diabetes Hands Foundation "in support of their efforts to encourage an open dialogue around the realities of living with diabetes."
Diabetes affects an estimated 26 million Americans, 7 million of them undiagnosed and two-fifths of those who are diagnosed not achieving recommended blood sugar control targets.
Scroll down to see the next article