July 05, 2016
Area 23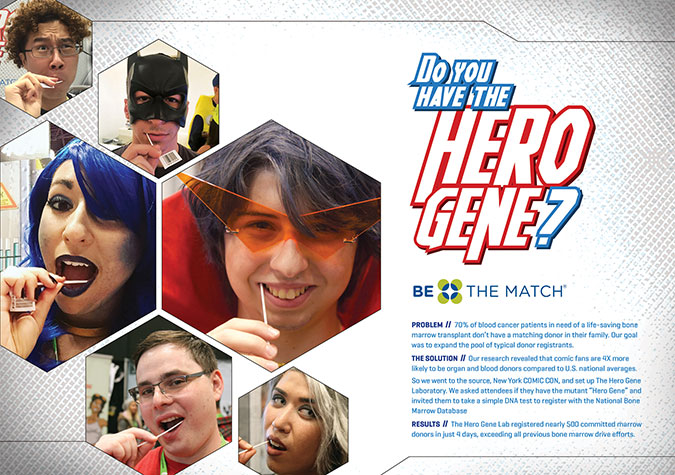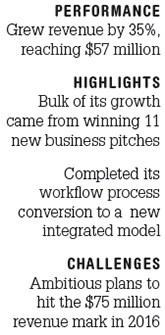 Area 23 bores easily, it seems. After a few consecutive years of 25% growth, executives at the New York City– based firm decided to up the ante by setting their sights on a 35% year-over-year revenue burst in 2015. The result?
Area 23's best year yet. Execs like the view from the $57 million revenue mark so much, they're aiming to reach $75 million by year's end.
Creative recognition was also at an all-time high, courtesy of a host of industry accolades for programs such as Free Killer Tan, a melanoma awareness campaign created for Mollie's Fund that likened a tanning salon to a funeral home. "We're in our niche as a creative agency," says co-MD Tim Hawkey. "At the end of the day, we deliver products we are proud of."
At the same time, Renée Mellas, co-MD, says she considers the awards "false beacons" as she instead hopes to bottle the passion and enthusiasm behind the achievements of the campaign.
"Whether you win or not, you learn and work as a team along the way," she explains.
Mellas ascribes the bulk of Area 23's 2015 growth to winning nine of 11 new business pitches, which is nearly an 85% pitch-win rate and considerably above the industry average.
Between new business and growth from existing clients, the agency reported 18 new AOR wins for product assignments. Among them: Synergy Pharma's plecanatide for chronic idiopathic constipation, Novavax's RSV vaccine, GlaxoSmithKline's blockbuster-in-the-making shingles vaccine HZ/su, Eli Lilly's disease-modifying Alzheimer's asset, Indivior's opiate-use disorder agents, and Eisai's CINV treatments.
Area 23 also completed its workflow process conversion to a co-op model that brings every discipline to the client table. "It's a co-creation model where we work in a nonlinear fashion," Hawkey notes. "Our work is done as a swarm, meaning on-the-spot results for the client, faster turnaround times, and more internal efficiency." As for digital, which accounts for more than 65% of Area 23's business, it's simply baked into how the company thinks. "We value digital, but we don't look at it as a medium," Mellas says.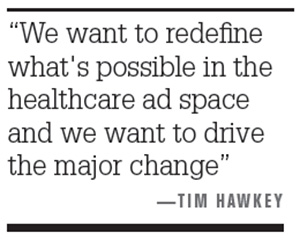 Area 23 executives are all too aware that DTC marketing campaigns lose their luster without strong consumer insights. To that end, there's a new focus on beefing up capabilities, which often means more hands on deck. During the past year, the team welcomed James Coghlan, from Grey New York, as SVP, strategic planning director; Chet Moss, of Havas and IPG fame, to serve as EVP, creative director of consumer brands; and account supervisors Rob Esposito, from FCB Health, and Tom Culhane, from Sudler & Hennessey.
"We don't have an issue with keeping people focused. They have their eyes on the prize," Hawkey says of the 280 employees calling Area 23 home. To keep pace with agency growth, he anticipates that number approaching 300 by year's end.
After the highs of the past year, what's next? Hawkey says the goal is to leverage Area 23's reputation, while quietly taking it to the next level. "We want to redefine what's possible in the healthcare ad space," he says. "And we want to drive the major change."
Scroll down to see the next article