April 01, 2013
Group DCA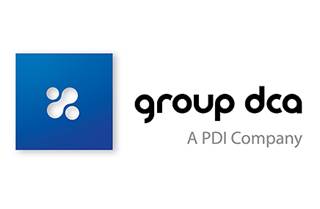 Company Profile
Group DCA is a subsidiary of PDI, Inc., a leading health care commercialization company providing superior insight-driven, integrated, multichannel message delivery for established and emerging health care companies. At the core of Group DCA is the delivery of engaging digital content through a superior user experience that leverages our database of over 350,000 health care professionals who are predisposed to engaging in digital communication. Group DCA utilizes the strengths of its proprietary software called DIAGRAM™ for efficient development of complex, interactive, 1:1 physician programs. Through these elements, Group DCA is able to deliver breakthrough solutions via interactive communication exchanges that conveniently accommodate the busy schedules of health care professionals.
Services and Offerings
Group DCA is reshaping the way pharmaceutical, biotech, medical device, and diagnostic companies reach and engage customers, commercialize products, and manage their portfolios through:
Multi-device interactive experiences
Multi-wave eDetailing sessions
Mobile apps for physicians, consumers, and sales reps
Multi-channel promotional programs
Managed campaigns
Core Capabilities
Group DCA is dedicated to providing access to, and enhancing engagement with, health care professionals via:
eDetails
iPad apps
Mobile apps
App-to-app communication tools for reps and ­physicians
Messaging e-mails
Extensive HTML5 expertise and iOS development
Applying self-guided interactive principles renders data and brand messages more engaging and memorable. The interactions we create capture response data throughout the digital engagement to allow for a positive one-on-one, customized experience.

What will be the game-changing trend over the next five years?
We predict the death of mass marketing as we know it. First, the Internet flattened the world, and now, the ubiquitous use of mobile technology continues to broaden marketing opportunities. Via constant connections through social network platforms, we are learning about the behaviors and preferences of individuals at a level that was not possible only a short time ago. These learnings translate into valuable sets of "big data" that can be leveraged to make every experience truly unique and relevant, and allow brands to target right down to the individual. Marketing to the "individual" should yield greater responses than mass marketing ever realized.
Address 800 Lanidex Plaza, Parsippany, NJ 07054 Phone 800-242-7494 Website www.groupdca.com New Business Contact Gregg Radzely, SVP, Business ­Development, gregg.radzely@groupdca.com or 973-795-8951 Year Founded 1999 ­Employees 120 Holding Company PDI, Inc. Sample Clients Pfizer, Amgen, Johnson & Johnson Office Locations Parsippany, NJ
Scroll down to see the next article