April 28, 2014
Kane & Finkel, indie CA agency, closes doors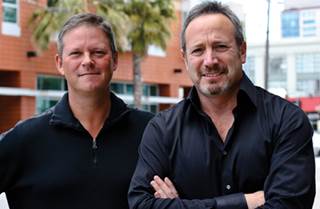 Kane & Finkel, the independent San Francisco-based shop founded in 1997 by John Kane and Bob Finkel, has closed, MM&M has learned.
The full-service agency couldn't sustain the unexpected loss of three big accounts, which combined represented about a third of total business, within one month of each other in the first quarter of 2013, an executive from the agency said.
The first blow was the official loss of Dynavax Technologies' adult hepatitis B vaccine Heplisav, which was denied FDA approval. Dynavax's stock price and overall market value have both tumbled during its ongoing struggle to get Heplisav approved.
Management changes claimed work on Astellas's transplant franchise, and on the launch of an ultra-orphan drug from Raptor Pharmaceuticals. Kane & Finkel had handled Astellas's transplant franchise for eight years.
"It had a cascading effect, and even though we were picking up additional work, it wasn't significant enough to fill in the gap," Finkel said. "We decided around December to notify employees and clients that we would be winding the business down. We stopped doing new business on February 28. The office is closed."
Last year the agency won creative work for the global launch of oncology drug Imbruvica (ibrutinib; for chronic lymphocytic leukemia and mantle cell lymphoma), co-promoted by Pharmacyclics and Janssen, as well as market access work for the brand.
Finkel said the agency developed the creative concept for the launch and follow-on indications, and Pharmacyclics and Janssen gave the concept to the brand's AOR to execute. The market access piece was relinquished after Kane and Finkel made the decision to close shop.
"Unfortunately, we didn't end up doing the work for Imbruvica after all the effort to win the pitch," Finkel said. "We transitioned business for clients where we could. For others, we just completed work we were contracted to do."
The partnership between Kane and Finkel was also dissolved, and the two won't be working together going forward. Kane is said to be traveling and unavailable for comment.
Fragmentation had also pressured the agency.
"While we were still AOR for a number of clients, we were doing content only," Finkel noted. "Work with multiple agency partners definitely ate into our total revenue."
Revenue for 2012 was reportedly pretty flat, somewhere in the $15 million to $25 million range. At its height, the agency had 75 employees, including five in a London office that opened in 2010. Finkel says the partners tried to hold on to as many staffers for as they could for as long as they could, and that they've all moved on to other agencies or different industries.
"For me personally, the hardest part was notifying employees," he added. "I did that one-on-one. Helping them was really important to me from an integrity standpoint, and I know John wanted to do the same thing."
Finkel says the agency didn't compete much with other California-based shops, such as Giant, which has grown tremendously in recent years—revenue was up 50% in 2012 to $25.9 million and headcount climbed from less 100 ending 2011 to more than 140 in 2013.
"A lot of times we were up against East Coast agencies—even on business that was on the West Coast," Finkel said. "It was only on occasion that we'd run into a West Coast agency like Stratagem, which is now Dudnyk. We didn't compete with Giant very often. The only time I can think of that we went up against Giant was on Imbruvica, and we won that pitch.
"The bulk of the agency world is still back east—a few have footprints on the West Coast," Finkel continued. "There's still a desire among clients to have a big, established East Coast agency. It's hard to tell which ones have a sizable footprint on the West Coast. A lot of them have most of their business with one or two clients. There are fewer and fewer independent agencies. Even Giant isn't totally independent anymore because they went out and capitalized."
Kane & Finkel was a full-service agency with a long history of professional side work for pharma, biotech and device clients. It had some big DTC accounts as well, including UCB Pharma's epilepsy drug Keppra and brands from Astellas, Neutrogena and Merck.
"We had been very successful, but all the signs were there that we had to move on," Finkel said. "I have a lot of pride in what we did. We won many creative awards and built many long-term relationships with clients. We were well regarded as breaking the code on strategy for some very difficult brands like Prograf and Letairis."
Finkel says it's likely he'll stay in healthcare. He's formed a consultancy called RMF Consultants and has had a few healthcare clients. He's exploring various options, including building out a business concept for an alternative to the agency model.
"I'm looking at new opportunities to be more collaborative," he added. "The creative side of me still wants that frenetic pace that defines agencies. I get bored easily, I like to keep moving, and I don't play golf so there are a lot of reasons for me to keep working."
Scroll down to see the next article