July 05, 2016
Sandbox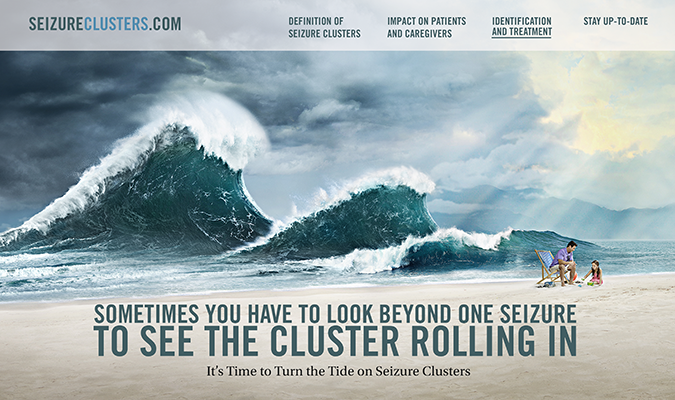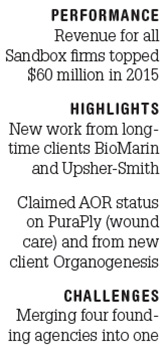 The first day of 2016 marked the dawn of a new era for the 33-year-old company formerly known as GA Communication Group. Beginning in 2013, the principals of the Chicago-headquartered agency, along with advertising veterans John Hilbrich and Mark Anthony, set out to create a new company. The goal? To link like-minded, complementary agencies working both in and outside healthcare.
On January 1, that vision became a reality when the four founding agencies — GA, McCormick Company, Underline Communications, and One Advertising — formally became known as Sandbox. The unified company employs around 350 people across seven U.S. offices; its expertise spans human and animal healthcare, pharma, medical devices, biotech, agriculture, financial services, travel, and consumer products.
"Principals of the four founding agencies are owners of one agency now," explains Joe Kuchta, chief client officer of Sandbox and the former CEO of GA Communication Group. "Sandbox doesn't buy agencies. Agencies buy into Sandbox. It's a huge differentiator."
Kuchta likens the Sandbox model to Leo Burnett's: a single brand, located wherever its clients need it to be. "We share resources, credit, and collaboration. We don't compete on P&L, and we don't worry about stock price," he explains. "It's a seamless experience for clients."
The transition was helped along by a handful of hires. While principals Kuchta and Mark Goble worked on the Sandbox integration, three new SVPs — Julie Hamilton, Chris Weber, and Chad Smith — and EVP, creative director Joe Ferrazano were brought in to help run the healthcare business.
Integration of the four agencies has gone smoothly, thanks mostly to judicious planning and a commitment to the process. "The management team spent a lot of time strategically mapping what Sandbox would be, and we took the time do it right," says Kuchta. "Sandbox is based on the collaboration of already-successful businesses becoming more successful, which takes a lot of drama and pain away from the process." Kuchta expects one or two more agencies to join Sandbox in 2016.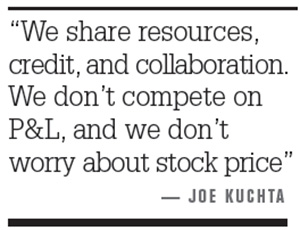 Revenue last year for GA alone was $27.7 million, up about 22%. Revenue for all of the Sandbox firms topped $60 million.
Over the years, GA has enjoyed stability among its client base and added new work in 2015 from longtime clients BioMarin and Upsher-Smith. The agency also claimed AOR status on PuraPly (wound care) from new client Organogenesis.
"We won everything in competitive pitches," Kuchta explains. "We invest a lot to create strong, long-term client relationships."
Kuchta says that ongoing pharma consolidation creates an interesting dynamic, though it hasn't negatively impacted Sandbox's business. I think all the consolidation keeps people on the client side a little uncertain. But in the end, it's still a people business. As long as our people continue to do what they do, we'll always be pretty successful."
Scroll down to see the next article