April 01, 2014
Upward Move: Maggie Helmig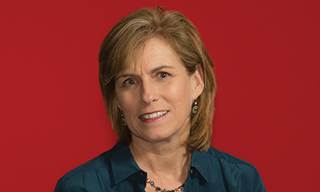 MAGGIE HELMIG
EVP, global brand lead, Ogilvy CommonHealth
By virtue of pharma's complexity, our ­industry is one of familiar faces. So while a new role may offer the promise of new digs, those unfamiliar spaces are often filled with past ­colleagues. For Maggie Helmig—whose career has spanned 16 years in pharmaceuticals—that fact has led to a basic truth.
"You have to treat people with dignity and respect, no matter their position," she says. "You're going to run into them sooner or later, so hopefully you left a good impression."
Those recurring faces can confer an advantage, too. One such advantage brought Helmig to her new role as EVP, global brand lead for Ogilvy CommonHealth, "I've known the leadership [at Ogilvy] for 20 years now. It was that mutual respect and trust that piqued my curiosity when they approached." Helmig will be based out of the agency's New York office.
Her past two and a half years based out of Hong Kong—working for inVentiv—will also give Helmig an edge in her new role. "It just felt like a great opportunity to manage a global brand, to get on the ground floor and work on the early stage market and brand development going across all stakeholders," she explains. "It's a great ­opportunity to pool together all my experiences."
One of those formative experiences was her decision to attain a master's in public health, a decision that she says helped to broaden her understanding of "epidemiology, health behavior, as well as health systems," and how those ­different forces come together in brand strategy.
Her decision to take a on a global-facing role for Ogilvy was borne out of desire to "be open to different experiences," an adage she extends to her college-aged children. "Be proactive, don't get stuck in one thing," she affirms, "You're the architect of your own career—push yourself out of your comfort zone, where you can learn and engage with the world."
Scroll down to see the next article