July 21, 2014
Allergan touts reorg, plans to lay off 13% of workforce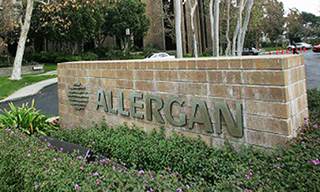 Allergan's second-quarter earnings and a new round of announced cuts are now part of the the Botox maker's record as it seeks to remain independent of Valeant, which has made several uninvited attempts to scoop up the company.
Allergan's sales were up 15.9% for the quarter ended June 30 compared to the same period last year, to $1.8 billion in sales, with specialty medications sales rising 31.2% and medical device sales rising 25.1%.
CEO David Pyott told investors Monday this was the "strongest increase in absolute dollar sales in any quarter in our history." He also announced a plan to overhaul the company's workforce and that the effort would push earnings-per-share to $10 in 2016. It would also add an additional $475 million in savings by 2015. The company announced a reorganization earlier this year, but this latest plan includes shrinking the sales force by 6%, to 3,750, from 4,000 and cutting R&D by 33%, to 1,450 from 2,150. The overall crunch would mean 13% fewer Allergan employees and three site closures. Allergan hinted at layoffs last week.
Allergan is also getting heat for comments it made questioning Valeant's earnings claims for its Bausch and Lomb products. Pyott said his firm "was impressed" by Bausch and Lomb sales figures he called "eye-popping" and said he was looking forward to third-quarter numbers which will help clarify if the reported growth were a trend. He also urged investors to query Valeant about what is behind its figures.
Valeant has filed notices with the Securities and Exchange Commission and Canada's equivalent, the Autorite de marches financiers, over Friday remarks by Allergan about its Bausch and Lomb sales, calling them "stagnant or declining," whereas Valeant says B&L second-quarter sales were 6% higher than during the same period last year. Valeant called Allergan's remarks an "apparent attempt to mislead investors and manipulate the market."
Although Allergan is resisting Valeant, the takeover does have supporters, including hedge fund Pershing Square, and, indirectly, Capital Research and Management Co. The Wall Street Journal reports that Capital Research—Allergan's largest shareholder—has sold most of its stock. Sources tell the Journal this move indicates that the firm "didn't see Allergan's shares heading much higher than Valeant's offer."
Pyott noted Monday that Allergan is not standing still and has stepped up its search for a merger/takeover target, which he says investors have told Allergan they want. He said this could "mean taking over or merging with a big company or a small one as long as it "offers the right level of accretion."
Pyott also noted Allergan would most likely pursue a specialty company takeover, because "that's our fit."
He also gave investors a recap of recent history, saying, "in my 16 years we have never disappointed you in any one single quarter. The only time we ever reduced our outlook during the year was 2009, and that was the year of the Great Recession."
Scroll down to see the next article