August 05, 2010
Co-promotion deal gone bad: Cypress hands Savella over to Forest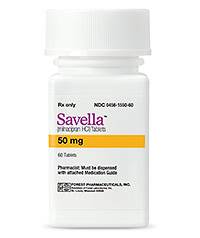 California-based Cypress Bioscience ended its co-promotion agreement with Forest Laboratories on Savella (milnacipran), a fibromyalgia drug approved in January 2009.
According to a company release dated August 4, Cypress will cut its workforce by 86%, or 123 employees, effective October 6, 2010. Forest will make a one-time, $2 million payment to Cypress, to "help facilitate this transition," the release said.
In a further effort to reduce operating costs, Cypress will also "discontinue or sell" its personalized medicine services business by the end of September, said the release. Personalized medicine products include Avise PG, a blood test to see how well methotrexate — a cancer treatment — is metabolized in a patient's body; and Avise MCV, a blood test for diagnosing rheumatoid arthritis.
"Our withdrawal from the commercial market has been contemplated for some time now, and is part of our renewed strategic focus on CNS drug development," said Jay Kranzler, chairman and CEO at Cypress Bioscience, in a statement.
Sales reps ostensibly under the employ of Cypress and Forest have been outspoken on the industry gossip site Café Pharma, before and after the announcement, with complaints ranging from too many reps on Savella, to inappropriate physician targets for fibromyalgia.
According to several Café Pharma posts, a Cypress conference call with employees yesterday broke the news about layoffs, and provided information about possible open positions with Forest Laboratories. Cypress did not immediately respond to requests for comment. Frank Murdolo, VP investor relations at Forest, confirmed that Forest has "agreed to interview Cypress sales representatives that are interested in open positions in the Forest field sales force."
In a Q1 2011 report dated July 20, 2010 (Forest's calendar year ends March 31), the company reported (April-June 2010) sales of Savella at $20.5 million. That figure is up from $9.6 million for April-June 2009, according to the Forest company report. Savella was launched in late April 2009.
Milnacipran, a selective serotonin and norepinephrine reuptake inhibitor (and Savella's active ingredient), is called Impulsor in Europe, and was denied approval by the EMEA in July, over concerns about the drug's risk-benefit profile. Impulsor is being developed in Europe by Pierre Fabre, a French pharmaceutical company. Cypress Bioscience licensed milnacipran from Pierre Fabre for clinical development in 2001, according to a company statement.
Scroll down to see the next article