March 09, 2011
Crestor dons chef's hat with online cooking show series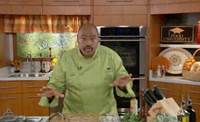 AstraZeneca is launching an online campaign to promote a healthy diet as part of its Crestor efforts.
The company is partnering with cooking site
Food University
on the effort, which features Food Network chef Sara Moulton and chef Curtis Aikens. The duo appear in a series of short online cooking videos that will appear on Crestor.com as well as MyFoodU.com.
At the beginning of the videos, "AstraZeneca Pharmaceuticals, the makers of Crestor," is credited as a sponsor.
AstraZeneca's Stephanie Jacobson, director of brand corporate affairs, said in a statement that the company had partnered with Food University "to educate people about the importance of maintaining a healthy diet as one way to help manage cholesterol" and to "empower people to take control of their health by showing how even small changes, like incorporating more low-cholesterol foods into their diet, can make a difference."
Jacobson noted American Heart Association figures estimating that only 17% of Americans 60 and over eats a quality diet.
Other Food University sponsors include Classico, FamilyCircle and Ikea, which is hosting a series of live events in different cities around the country.
Scroll down to see the next article