April 10, 2008
Crestor to benefit as ENHANCE smoke clears: survey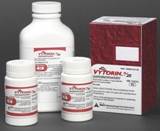 Expect AstraZeneca's Crestor to emerge as the big winner in the aftermath of Merck/Schering Plough's Vytorin debacle, primary care physicians (PCPs) said.

Results of a new survey conducted by Deutsche Bank (DB) and ImpactRx indicate Vytorin and Zetia prescriptions written by PCPs will continue their decline as the number of Crestor scripts rises.

In a note to investors this week, DB pharmaceuticals analyst Barbara Ryan presented the results of the survey of 101 PCPs, examining their prescribing habits for cholesterol drugs and anticipated changes in the wake of the presentation of results of the ENHANCE trial at last month's meeting of the American College of Cardiology (ACC).

"Together these data points suggest both additional abrupt and sustained declines for Vytorin and Zetia and increased utilization of other statins, especially Crestor," Ryan wrote.

Survey results indicated that Vytorin share on average will decline from its current 16% share to 9% and Zetia share will dip from 9.5% to 6%. The decreased usage reflects not only fewer new patient starts but also a large increase in switching off to other agents from about 16% to 38% in the future.
"Despite a modest recent recovery in new prescription levels for Vytorin and Zetia following the initial January decline, the ENHANCE trial news at ACC appears to have had an immediate negative impact on prescribing practices of both PCPs and cardiologists," Ryan concluded.

According to the survey, use of other statins will also increase; however, the primary beneficiary in terms of share gains appears to be Crestor, both from future anticipated use by PCPs and immediate changes seen in prescribing, especially by specialists.

In January, Merck and Schering-Plough issued a long-delayed report on the results of the ENHANCE trial which tracked the buildup of fatty plaques in patients using Zetia-plus-Zocor combo Vytorin, compared to patients using Zocor (simvastatin) alone.

Results of the ENHANCE trial suggested that while the combination drug does a better job of lowering LDL (bad cholesterol), Zetia did nothing to enhance the atherosclerosis-slowing benefits of Zocor, which lost patent protection in mid-2006. The two-year trial included about 720 patients with a rare inherited condition that causes extremely high cholesterol – most in the Netherlands. Results of the ENHANCE study, completed in April 2006, were to be released by March 2007, but the companies stalled, citing data complexity. The companies then proposed changing the primary endpoint before reversing themselves as the delay began attracting press and congressional attention.

Vytorin has been one of the most highly visible and supported Rx products in recent years. For the first three quarters of 2005, Merck/Schering-Plough spent $115 million on DTC ads for the drug, according to TNS Media Intelligence figures, and the joint venture spent another $94 million on consumer ads for the same period in 2006.

Consumer advertising for the brand is handled by DDB New York, while professional advertising for both Vytorin and Zetia is handled by Corbett Accel.

Scroll down to see the next article