October 26, 2010
DDMAC slaps Alcon convention graphic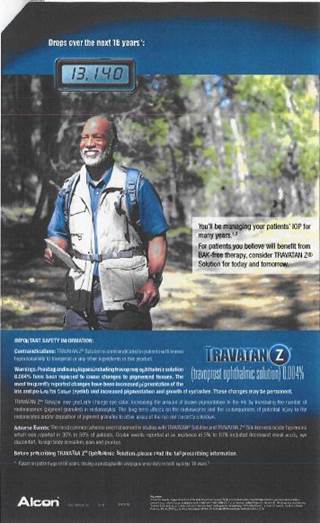 A convention graphic for Alcon's Travatan Z, an ophthalmic drop, broadened the product's indication and made unsubstantiated superiority claims, according to a Division of Drug Marketing, Advertising and Communications (DDMAC) Untitled Letter.
Although Travatan Z received a broadened indication from FDA in August – the eye drop is now indicated as a first-line therapy – that "was not the case at the time of [the ad's] initial dissemination," according to the Untitled Letter. The graphic "fails to present Travatan Z's full approved indication, including the limitations to the indication regarding use only as a second-line therapy," the letter said. "While we acknowledge that FDA approved Travatan Z for first-line therapy on August 31, 2010, this indication was not approved at the time this piece was initially used."
The graphic also makes superiority claims, wrongly, based on the insinuation that benzalkonum chloride (BAK) is more dangerous than BAK-free therapy, or Travatan Z. Alcon conducted a bioequivalence trial comparing Travatan Z to Travatan (which does contain BAK), and although the trial was necessary for Travatan Z's approval with FDA, bioequivalence trials "are not designed to assess superiority," according to the letter.
Novartis owns roughly 77% of Switzerland-based Alcon, and is angling for the other 23%. Last week, Novartis chairman Daniel Vasella was elected as board chairman of Alcon, a move that brings the eye health company further into the Novartis fold, according to a Wall Street Journal report.
Scroll down to see the next article