August 21, 2014
Five things for pharma marketers to know: Thursday, August 21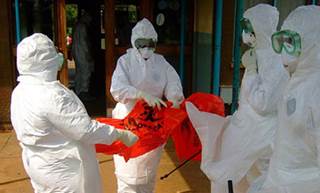 Emory University Hospital is set to release Ebola patient Kent Brantly. Bloomberg reports that the doctor who contracted the virus while in Liberia has been cured. Doctors have held off linking the experimental Zmapp medication to his recovery, because he also received a blood transfusion from another Ebola survivor, and it is possible that the infused antibodies helped spur the turnaround, and because his own immune system may have fought off the virus. Bloomberg says there is no update on Nancy Writebol, who worked at the same Liberia location, contracted Ebola and received Zmapp. Deaths abroad continue to mount. The Associated Press reports 1,350 people have now died of the virus which has swept West Africa, with a particularly high number in Liberia, where there have been 576 reported deaths.
The FDA has approved a new diabetes test which proponents say may help type 1 diabetes patients get the correct treatment sooner. The new test is for the Kronus Zinc Transporter 8 Autoantibody ELISA Assay by Kronus Market Development Associates. The test is the first Zinc Transporter 8 to score US regulatory approval, but comes with a side note of caution: a negative result does not mean a patient is not type 1.
The UK's National Institute for Health and Care Excellence says it is OK to expand the indication for Celgene's Revlimid (lenalidomide). PMLive reports that NICE says the National Health Services in England and Wales should now OK the drug to treat myelodysplastic syndromes, meaning conditions in which bone marrow does not produce enough healthy blood cells. The MDS Foundation says the syndrome usually hits adults 65 and older, but it can surface in younger patients. NICE previously rejected the drug over cost, but Celgene has offered a discount for prescriptions associated with this indication.
Despite Wednesday's report that Allergan and Salix were holding merger talks, Bloomberg's sources tell the news site there's nothing to the rumor. What is confirmed is that Allergan is looking for a partner to make itself too costly to become a Valeant takeover target. The two companies are in a battle over the Botox maker, with Valeant and its backer Pershing Square Capital seeking to take over the company, and Allergan telling shareholders that becoming part of Valeant would mean less cash for Allergan's products.
Healthcare reform is bringing more patients to hospitals, but money from the increased caseload is being diluted by the need for bigger staffs. Modern Healthcare reports that expenses have increased 7%, compared to a 5% uptick in revenue.
Scroll down to see the next article