December 23, 2013
Iclusig is back in US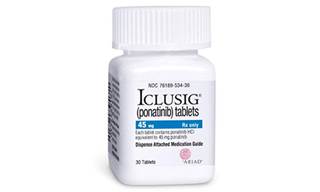 Two months after Ariad pulled it from the market by FDA request, leukemia drug Iclusig (ponatinib) is returning with a more limited indication, a boxed warning and other updates.
The treatment is now approved for patients with chronic myeloid leukemia (CML) who have failed to benefit from or are ineligible to take four alternative therapies in the same class of drugs, the Wall Street Journal reports (sub. req'd). The initial approval was in patients who had already tried just one other of the drugs in the tyrosine kinase inhibitor class.
Richard Pazdur, director of the FDA's office of hematology and oncology products, told the WSJ, "We're relegating this drug to a position where [it's taken by] patients who do not have any other therapeutic alternatives."
Iclusig, also approved for Philadelphia chromosome positive acute lymphoblastic leukemia, was withdrawn Oct. 31. Data had shown that more than one in four patients taking it had serious complications including stroke and heart attack, although the FDA at the time had held off on definitively linking the drug to the adverse effects because the clinical studies that prompted the suspension did not include a control group.
It was allowed to stay on the European market and had about $16.7 million in third-quarter sales.
"Commercial distribution of Iclusig will begin by mid-January at which time we will deploy dedicated commercial and medical affairs teams in the US," Ariad's Marty Duvall, EVP and chief commercial officer, said in a statement Friday. "In the meantime, patients will continue to receive Iclusig through the IND mechanism."
As of Oct. 31, Ariad said, 640 patients were receiving Iclusig in the US. Since then, the drug has been made available to patients with no other options through emergency and single-patient investigational new drug (IND) applications. Through today, FDA has approved 350 INDs, the firm said.
Iclusig, which was approved in December 2012 under the FDA's accelerated approval process, is Ariad's only marketed drug. After withdrawing the drug, the company
laid off 40% of its staff
and then
announced a plan
to cut costs by 35% in 2014.
Scroll down to see the next article