July 20, 2011
Janssen launches HIV awareness campaign with celeb designer David Bromstad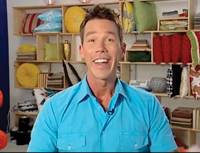 Janssen Therapeutics, a division of Janssen Products, has teamed up with celebrity reality television designer David Bromstad, host of HGTV's Color Splash and winner of HGTV's first season of Design Star, to launch an HIV awareness campaign to encourage testing for the condition, called Know Yourself: Get HIV Tested. The campaign will run through the end of September, the finale of which will be celebrated with an event in New York City dedicated to Gay Men's HIV/AIDS Awareness Day, at which a mural designed and painted by Bromstad to highlight the importance of HIV testing will be unveiled.
Statistics provided by the Centers for Disease Control and Prevention (CDC) estimate that more than one million people in the US are currently living with HIV, yet 200,000 people (or one-fifth) are unaware they are infected. According to the CDC, gay and bisexual men make up the community in America that continue to be most severely affected by HIV, and are the only group in which new HIV infections are increasing. In fact, nearly half (44%) of those men who are HIV positive in this community are unaware of their infected status.
"Knowledge is one of the most powerful tools in fighting HIV, and you have to get tested to know your status," says Bromstad in a release. "I am especially passionate about HIV testing and education because it particularly affects the community of which I'm proud to belong. I want to raise awareness of the importance of testing by using something I know well and am also passionate about: art and design."
The Know Yourself: Get HIV Tested mural initiative is not the first instance in which Bromstad and Janssen have teamed up to bring awareness to the condition. Bromstad previously participated in a Janssen Therapeutics-sponsored educational video, in partnership with the American College of Physicians (ACP) Foundations, which focused on HIV testing awareness along with HCPs specializing in HIV care, HIV-positive individuals and HIV educators.
Scroll down to see the next article