October 28, 2008
J&J buys wellness firm HealthMedia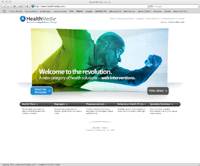 Johnson & Johnson (J&J) is getting into the wellness and prevention business with the acquisition of HealthMedia, Inc., an online "health coach" for consumers.
Described as a "web-based behavior change interventions" company, HealthMedia represents the beginning of a new business platform for J&J, the company said in a statement.
"It is exciting for Johnson & Johnson to establish a new business platform to offer customers meaningful products and services…that reduce healthcare costs, and at the same time, deliver new growth for our company," said William Weldon, J&J's chairman and CEO. "Our establishment of a wellness and prevention platform recognizes our conviction that a comprehensive solution must begin long before the onset of illness."
HealthMedia, of Ann Arbor, MI, was founded in 1998 by Victor Strecher. According to the company's website, HealthMedia's products are "backed by 30-plus years of behavior science research born out at the Health Media Research Laboratory at the University of Michigan."
J&J was not immediately available for comment.
Scroll down to see the next article