April 25, 2013
Pharmas to biotechs: let's make a deal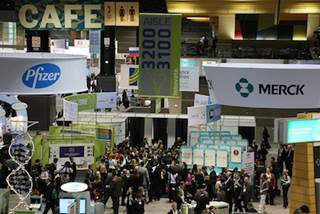 The pheromones are flowing this week in Chicago, where BIO is wrapping up its annual International Convention, a kind of marathon corporate speed dating session whereby established biopharmas looking to replenish their pipelines romance startups shopping developmental treatments, and vice versa.
Mergers and acquisition activity has been in a slump of late—the aggregate value of these deals fell to a six-year low of $90 billion in 2012, according to Deloitte figures cited by Biopharma Dealmakers. But 2013 is expected to prove a banner year for acquisitions and in-licensing deals—in number if not in value. That's partly because the cost of capital for small companies on the sell side is prohibitively high, while that for larger companies is at rock bottom. There's also been a paradigm shift among buy-side companies, which have finally accepted external R&D as a big part of the future.
"Companies that once swore by the belief that their internal R&D was the best now say explicitly that they're looking for outside help," says Jeff Stewart, director of corporate development at Campbell Alliance. "It's been true for a while that the assets that work in pharma have come from small biotechs, but it's now okay to say that within the ranks of Big Pharma."
In a Campbell Alliance survey of 129 licensing pros earlier this year, 62% of those from in-licensing companies said they anticipate doing more Phase I and preclinical deals this year.
"Everyone likes preclinical assets," says Stewart. "This is a sea change. Companies until recently were looking to fill bags. They had boots on the ground. They needed additional products to fill up the reps' bags. With the contraction in sales reps, you don't have this stark demand, and your priorities change to earlier stage assets that you can take fliers on. Even though companies are desperate for new assets, they've accepted that they're smaller."
As a result, giants that would have turned up their noses at Phase I therapies a few years ago are now in-licensing them, or buying their makers outright. They're not betting the house on them, though—instead, they're inking earnout deals wherein out-licensors net benchmarked payments if their products advance. Think of it as a biopharmaceutical pre-nup, one that limits the risk for large biopharmas while rewarding innovative smaller firms with milestone payments as their products perform.
"They have differences on what they think the value is, and this is a way to bridge that gap," said Stewart.
The buy-side companies polled by Campbell Alliance were most interested in early-stage oncology products, with nearly a quarter of in-licensers saying they'll shop for preclinical oncology assets this year. In-licensers were nearly as interested in early-stage CNS assets, and expressed strong interest in preclinical, Phase I and Phase 2 candidates in the immunology, metabolics and cardiovascular categories.
Scroll down to see the next article