April 16, 2013
Qsymia gets a boost, but weight loss remains anyone's game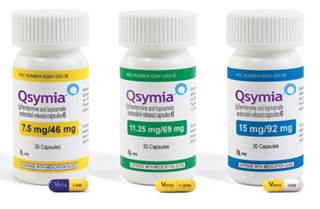 Vivus won an FDA REMS modification letting it sell the drug through certified retail pharmacies – it was previously available only through certified mail-order pharmacies.
Vivus is hoping for a big boost to sluggish sales from the expansion, as Qsymia becomes available in thousands of retail pharmacies over the next few months. Vivus president Peter Tam called it "a key accomplishment in removing a major barrier that has hindered the initial acceptance of Qsymia into everyday medical practice" and said "We believe that retail access, along with ongoing improvements in reimbursement, will help to accelerate Qsymia awareness trial and usage."
Qsymia was approved last July for use in obese adults (or those with a BMI of 30 or greater) or overweight adults with at least one weight-related condition, such as hypertension, type 2 diabetes or high cholesterol. The drug, a combo of phentermine and topiramate, carries a Risk Evaluation and Mitigation Strategy due to the danger of birth defects it poses in pregnant women. The approval was also conditional on Vivus' execution of ten postmarketing requirements including a long-term cardiovascular outcomes trial to look into risk of heart attacks and strokes.
Today's FDA move buoyed the company's stock, but not all stockholders are popping champagne corks just yet. First Manhattan Co., which owns a 9.1% share of the firm, said last week that a REMS modification would be "a step forward," one "necessary but not sufficient" for the drug's success, but called for a change in management and said it would nominate six directors at the company's annual meeting.
"Achieving this goal requires a new commercial strategy, including the execution of the right partnership strategy," said the investment advisory firm's statement. "Qsymia should be the drug of choice for many Americans suffering from obesity and its devastating medical consequences."
Waiting in the wings is Arena/Eisai's Belviq, which received an even more conditional approval in June and has yet to hit the market. A survey by Decision Resources suggests that Victoza could mop up both, due to market access issues including formulary tiering and managed care restrictions. While nearly two-thirds of surveyed endocrinologists and primary care physicians told the firm they expect to increase prescribing of Qsymia over the next year, physician familiarity with Victoza through its use in treating type 2 diabetes, coupled with experience in off-label prescribing for weight loss, could mean the Novo drug dominates the space.
"Surveyed endocrinologists and PCPs estimate that fewer than 26% of their overweight and obese patients request a specific weight loss drug," said Decision Resources' Donny Wong, PhD. "As a result, despite Qsymia's status as the newest obesity drug to launch in the US since Roche's Xenical and Abbott's Meridia, phentermine remains the most commonly prescribed obesity drug. However, the heavy use of pentermine in the US may provide an opportunity for patients to be 'upgraded' to Qsymia, or to try combination therapy with Belviq once that option becomes available."
Scroll down to see the next article