July 14, 2014
Shire asks AbbVie for more money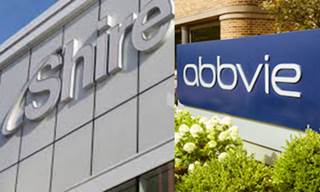 Shire and Abbvie are moving their relationship to the next level. Irish manufacturer Shire announced Monday that it has asked Illinois drug maker AbbVie to up its takeover offer—which would make it offer number five— to around $90 per share, or $53.7 billion. This is an increase from last week's bid of $87 per share, or $51.6 billion, which was up from AbbVie's prior offer of $46.5 billion.
This latest proposal would give Shire shareholders a 25% stake in the new company. An as-is deal would mean the two companies will come together at a lower price than the almost $94-per-share the Street expected AbbVie would need to pay before it could declare Dublin home. AbbVie still has to officially up its bid.
Jefferies analyst Jefferey Holford wrote in a Monday research note that the deal offers AbbVie "significant EPS accretion" and easier cash-flow access. It also offers AbbVie a shot at product diversity and a lesser dependence on an expanding list of indications for its immunology drug Humira. Shire's portfolio includes the prescription ADHD medications Adderall XR and Vyvanse and the treatment for the rare disease hereditary angioedema, Firazyr.
It also makes AbbVie yet another company that could benefit from a lower tax rate abroad.
While Holford does not anticipate any other company will try to woo Shire at this stage, he points out that a deal may make AbbVie an M&A target for US-bound drugmakers "should this merger go ahead with the US tax laws around inversion unchanged."
Scroll down to see the next article