May 23, 2011
Vertex versus Goliaths in HCV drug duel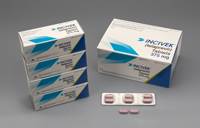 Vertex has succeeded in bringing one heck of a new drug to market in Incivek (in-SEE-veck, or telaprevir), a hepatitis C drug 15 years in the making which promises to cut treatment time in half. Selling the drug against the combined might of Roche and Merck could be nearly as tricky.
In a Monday conference call, Vertex execs declined to comment on the possibility of a US co-marketing deal. While J&J's Janssen holds marketing rights to the drug in Europe, South America, the Middle East, Africa and Australia (Mitsubishi Tanabe Pharma will market the drug in Japan), Vertex is so far going it alone in the US, having amassed a marketing staff of 175 field-based employees, including a 115-strong sales force, which averages 14 years of pharma industry experience and eight years in antivirals, many having joined from Roche or Merck. Not bad for an upstart like Vertex, but nothing compared to the marketing muscle its competitors are sure to bring to their Victrelis push.
Merck had no sooner won FDA marketing approval for Victrelis (boceprevir) a week-and-a-half ago than the company
f
loored investors
by partnering with rival Roche. Merck and Roche make competing pegylated interferons and ribavirin brands. Both Incivek and Victrelis are indicated for prescription in combination with those two drug types (Merck makes PegIntron and Rebetol, while Roche makes Copegus and Pegasys). The giants, which stand to make a lot more off of Merck's new protease inhibitor than they do off the older drugs, joined together in a squeeze play.
Merck also priced Victrelis at $1,100 per week wholesale – as little as half of Vertex's $49,200 price tag for a 12-week supply of Incivek, depending on how long it takes to clear the virus. Vertex's argument is that Incivek produces more positive outcomes in less time than the competition – basically, that it has a better drug (the Incivek cocktail cured 79% of patients new to treatment, versus 66% for Victrelis, and seemed to do so faster). Most analysts agree, giving Vertex the edge in the long run but predicting a dogfight of a launch.
"Unlike HIV or hepatitis B, hepatitis C can be cured, often with a single course of treatment," said Vertex EVP/chief commercial officer Nancy Wysenski. "We also factored in the cost of other medications and procedures used today and how well those treatments work, including the standard of care."
Wysenski added that where Incivek patients will typically have three monthly co-pays, "we believe people on competing regimens will have anywhere from six to 12 monthly co-pays." She said the Incivek co-pay should typically run patients between $50 and $250 per month.
Vertex is offsetting its drug's higher price with a strong patient assistance offering, including a co-pay program covering up to 20% of total cost for people with insurance, regardless of income, and another offering the drug free of charge to uninsured people with household incomes of under $100,000. The company's Vertex GPS program has case managers on call to walk patients through their benefit plans and help with insurance appeals or direct them to reimbursement sites for other meds in the cocktail.
The company has set up an unbranded patient education site,
BetterToKnowC.com
, with a 24/7 nurse hotline, along with a professional education site at
HCVInsights.com
. On the professional side, said Wysenski, "There are probably 4,000 physicians responsible for the vast majority of prescriptions and beyond that a super-concentration of 300-400 thought leaders," most of them well aware of Incivek and many having already undergone training to be part of the company's speakers bureau.
"You have to recognize the very concentrated nature of this market," said Vertex chief Matthew Emmens. "Physicians are highly aware of these drugs, so I don't think reminder-type advertising is that important here. What's important is that physicians recognize the benefits of each drug and make a decision that's best for patients. We're very pleased with our label, we have a straightforward dosing regimen, we have a very high cure rate and we have side effects that are manageable."
"Physicians," said Wysenski more bluntly, "are going to care most about what gives their patients the best chance to clear the virus. Patients are going to care what it costs them out of pocket." Bernstein's Tim Anderson has forecast that Incivek will grab three-quarters of the market, while Victrelis will peak in 2013 at $650 million in global sales. Wolters Kluwer has projected Incivek peak sales of $2.4 billion in 2015, versus $1.7 billion for Victrelis.
Miller Tabac fund manager Les Funtleyder sees the new entrants more evenly matched.
"Right now we're thinking it'll be a fifty-fifty market," says Funtleyder. "There is a perception that Incivek is more potent than Victrelis, but they're both pretty potent and their side effects are pretty manageable. Incivek has J&J behind it, so it's not going to be a cakewalk for anybody. It's a tough market."
Scroll down to see the next article