May 06, 2010
Viagra, Nexium and Chantix are Mensa-worthy brands, says digital IQ study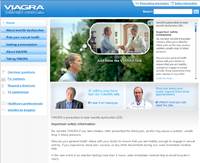 Marketers working on Pfizer brands Viagra and Chantix, and AstraZeneca's Nexium, can pat themselves on the back, since they all scored in the "genius" percentile based on digital marketing competency, according to the L2 Digital IQ Index.
A report on the findings, which ranked the cumulative strengths of 51 brands with respect to web platform, off-platform online marketing, search engine optimization (SEO) and social media, found that Viagra, Nexium and Chantix came in first second and third, respectively, followed by Ortho Tri-Cyclen Lo, Crestor, Gardasil and Yaz (tie), Symbicort and NuvaRing (tie) and Lunesta rounding out the top 10, in descending order.
A brand's platform, or brand.com site, carried the most weight statistically for the IQ index, and the best brand sites "clearly direct users and prospects to appropriate information," particularly in the case of brands with multiple indications. Also, brand sites that include disease education and community content, in addition to basic drug information, are more effective, the report said.
However, unbranded sites can present a danger from competitors, and "typically generate significantly fewer unique visitors than a branded site, even when offering better disease education information and technology integration," the report found, citing the example of Advair.com versus its unbranded counterpart, Asthma.com.
"The biggest divergence among pharmaceutical sites is in the use of technology to amplify content. Although strong sites offer videos and interactive features with anatomic images, doctor interviews, and patient testimonials, 55% fail to incorporate flash elements," the report said. In March of 2010, Nexium, Orencia, Levitra and Abilify saw the most brand.com traffic, according to the report.
Just 19% of the 51 pharma brands surveyed are on at least one major social media platform: Facebook, YouTube, or Twitter. The report singled out Gardasil and Nexium as especially progressive, despite the prohibition on Facebook wall postings (the report noted a November 2009 Nielsen study that found only one in 500 online postings, or 0.2%, incorporate the criteria required for adverse-event reporting). On Twitter, the Purple Pill direct messages an 1-800 number in response to tweets about the drug, the report found.
The IQ Index and report were created and compiled by L2, or LuxuryLab, a NYC-based think tank founded by NYU Stern School of Business prof Scott Galloway. The 51 brands surveyed were grouped into five categories: genius, gifted, average, challenged, and feeble. Meda's Astepro ranked 51, as the most enfeebled, with a "miserable web site and absence from other digital media," the report said. The full 52-page report can be downloaded for free
here
.
Scroll down to see the next article