June 01, 2014
Medscape app gives personalized take on medical news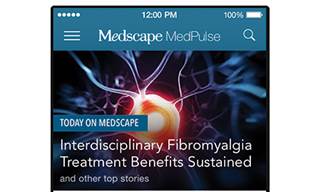 Don't call MedPulse, the new app from WebMD's Medscape, a news aggregator, Ben Greenberg, VP of product development, tells MM&M. Instead, the exec describes the iPad and iPhone resource as a unique tool with one purpose: to funnel medical news to a professional's device.
That includes specialty-specific information, as well as the day's top Medscape stories, blog updates and a Twitter feed that shows doctors the news that thought leaders have highlighted.
The app is based on a plug-and-play setup, with interests noted in existing Medscape profiles automatically funneled into MedPulse. Greenberg said that in addition to keying in on user interests, the app makes it easy to identify personal key news items by showing the headline and lead-in text, as opposed to just linking to the material.
The VP said that although the app is in addition to other Medscape services, this is not a matter of doctors migrating from other sources once they download MedPulse. Instead, Greenberg says WebMD has found that its offerings tend to have an additive effect, and offer a news solution that could fill in information gaps professionals may not have realized they had.
While an Android version is on the way, Greenberg said the company launched with iOS because it's more in-synch with its user base which includes around 625,000 US physicians. Greenberg says more content is in the works, and that the app has also started to attract a fan base among nurses as well as doctors.
Scroll down to see the next article