August 01, 2013
Private View: Engaging Audiences with Print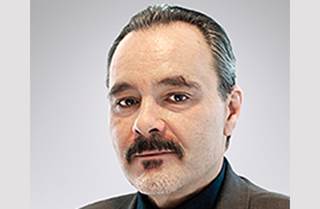 Impact. Recall. Awareness. All of these are very realistic expectations of journal advertising, but to that list let's add one more: engagement.
Print advertising is consumed in a special way: electively, quietly, (usually) comfortably. These are the times when readers are engaging with ideas and it is in this moment that they can engage in a deeply personal way.
So what do we mean when we say "engage"? First, we want to make room for them to become part of the communication and complete the story. When they find the idea we want them to own, it's got a much better chance of sticking in a very personal way.
That's why the creative "construct" matters. We must reward the viewer's attention by engaging them, and helping them to walk away with an idea.
Here are a few hard-to-find examples from the ethical medical space whose construct lets viewers walk away with a higher, more personalized idea.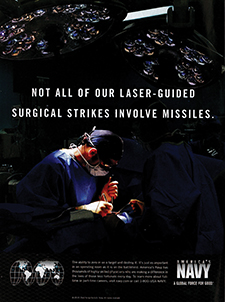 America's Navy
Agency:
Campbell Ewald
This clever "misdirect" turns destructive militaristic nomenclature into a "force for good" by pairing it up with a lifesaving surgical procedure. Outstanding brand communication that allows the reader to bridge the gap.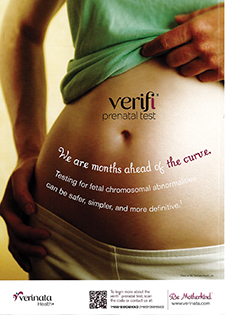 Verifi Prenatal Test
Agency:
Verifi
A tender topic well handled. Testing for prenatal chromosomal abnormalities "months ahead of the curve" delivers the reader to a distinct place and time for patients—the "what one might do" with the information, especially before a patient is showing (the curve), is never touched, but instead very subtly suggested.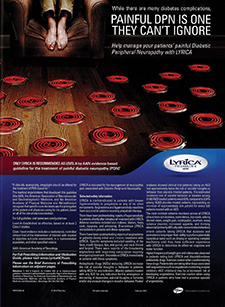 Lyrica
Agency:
Havas Metro
The imagery is prototypical pharma, but the construct creates a space in which the viewer can participate. It's not about hot burners beneath your patients' feet, it's about your patients being restricted by the threat of burners, and that you can't ignore.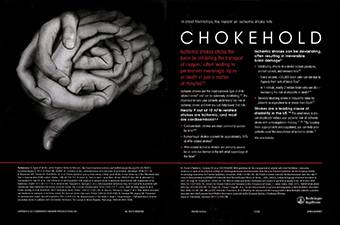 Atrial Fibrillation and Ischemic Stroke
Agency:
McCann Regan Campbell Ward
The viewer first sees a crushing grip, and then discovers how the hands form a brain, completing an impactful visual story. The "chokehold" headline underscores the deadly threat AFib-related ischemic stroke poses.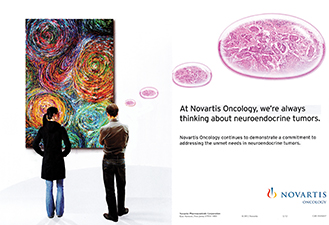 Novartis Oncology
Agency:
McCann Regan Campbell Ward
So, what's on your mind? This corporate communication underscores the Novartis commitment to fighting neuroendocrine tumors by dramatizing the healthy obsession that resides within their employees. While viewing the van Goghesque abstraction, they see tumors, and the reader gets to discover the "obsession."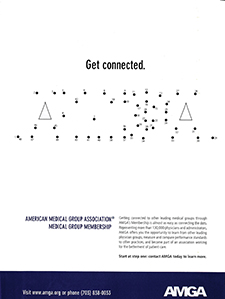 American Medical Group Association
Agency:
Dodge Communications
Talk about getting the reader to complete the idea—this AMGA ad uses "connect the dots" to invite participation and deliver a message of connectivity. The moment of playfulness arrives with the realization that it's the AMGA logo forming the connection.
---
Rich Angelini is SVP & Executive Creative Director, Mc|K Healthcare
Scroll down to see the next article