May 20, 2009
Value-Based Purchasing and Comparative Effectiveness Research
Click here to access MarCom's White Paper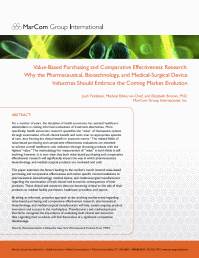 Value-Based Purchasing and Comparative Effectiveness: Why the Pharmaceutical, Biotechnology, and Medical-Surgical Device Industries Should Embrace the Coming Market Evolution
For years, health economics has assisted healthcare stakeholders in making informed evaluations of treatment alternatives. Now, the advent of value-based purchasing (VBP) and comparative effectiveness research (CER) are leading to new methods for identifying products with the highest "value"—those that ideally deliver both overall cost reductions and improved patient health. These trends will increasingly impact the way healthcare products are marketed and sold.
This paper examines the march to VBP and CER evaluations, and makes specific recommendations to manufacturers and brand teams regarding how combining clinical and economic data is essential to the successful marketing of drugs and devices.
Please
click here
to download this white paper.
About MarCom Group International, Inc.:
MarCom Group International works with US and global pharmaceutical, medical-surgical, and biotechnology companies to provide medical marketing communications, health economics, and physician education services. MarCom's health economics team combines expert research, strategic analytics, and scientific communications for world-class results.
Click here
for more information about MarCom Group International, Inc.
How to download the MarCom White Paper:

If you don't have a username and password to mmm-online.com,

Click "register here" on the MarCom White Paper download page

Enter in your contact information

An email will be sent to your email address with a link to confirm your registration

Click on the link in your email to sign in your username and new password

Download the MarCom White Paper
Scroll down to see the next article