October 19, 2017
GOLD | Best Consumer Print Campaign of 2017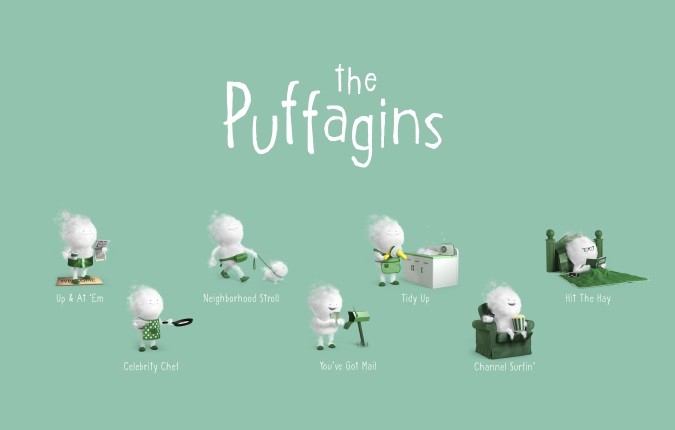 GSW and Boehringer Ingelheim for Atrovent
Meet the Puffagins
---
As an established COPD brand in Boehringer Ingelheim's extensive portfolio of respiratory products, Atrovent doesn't command a lot of marketing dollars. With momentum beginning to wane, BI gave GSW a modest budget to find a way to keep existing customers.
Inspired by the discovery that many Atrovent users weren't taking enough daily doses, the team came up with The Puffagins, characters that personify the puffs of the aerosol treatment and serve as reminders to take all four daily doses.
"When patients with COPD use the product correctly, they breathe better," ex-plained a GSW representative. "And when they breathe better, they stay on Atrovent."
All judges' comments enthusiastically praised the idea, execution and results.
"Puffagins is a beautiful idea that was executed brilliantly," explained one judge. "Smart, sweet design, and great storytelling."
The characters, including Up & At 'Em Puffagin and Channel Surfin' Puffagin, reflect the daily routines of Atrovent users. A GSW representative explained that their look was inspired by cumulonimbus clouds, and that complex CGI was used to recreate the unique particle physics of vapor movement.
"These fantastic little guys do an amazing job of reminding patients how often to puff," noted a second adjudicator.
At awards entry time, seven different Puffagins had been developed. Given the success of the campaign, additional Puffagins are in development. Initial market research shows that The Puffagins are succeeding in their primary mission as 80% of patients now understand that the recommended dose is four times a day.