October 19, 2017
GOLD | Corporate Branding Campaign of 2017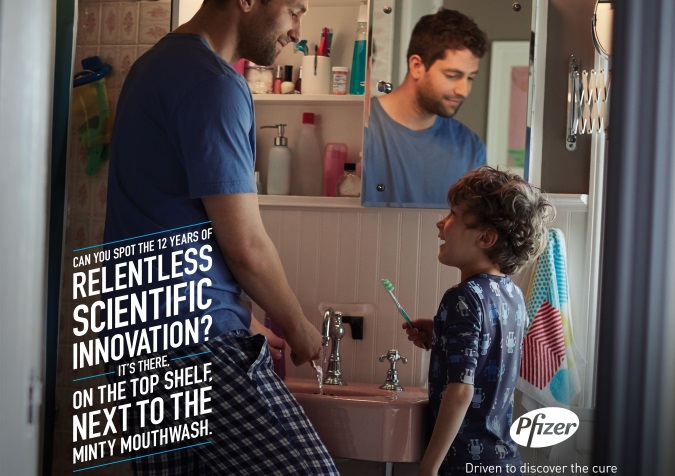 HealthWork and Pfizer
Driven to Discover the Cure
---
In just 90 days, this beautiful campaign increased positive impressions of Pfizer to 21%, versus 5% for the pharma industry overall. All judges who viewed the entry commented on how important the campaign was for the entire industry.
"This campaign is breakthrough — and not just for Pfizer," said one judge. "The execution was extremely well done. We appreciated Pfizer's leadership in creating and supporting this campaign and were impressed by how much it improved the company's reputation."
Research revealed that people hate pharma, but love science, and few can make connections between the two.
Pfizer and big pharma were viewed as profit-driven and self-serving, while science was viewed as noble, selfless, and progressive. A key objective was to showcase Pfizer's connections to the science behind the cures.
In a warm tone, the campaign told stories that celebrated R&D and the scientists behind cures. It launched with the Before It Became a Medicine TV spot, which followed the 12-year journey of a new medicine and prominently featured real Pfizer scientists. Print work, digital banners, and paid social posts drove traffic to the campaign's online hub, which includes micro-documentaries about Pfizer scientists.
Additional judges described the campaign as bold, creative, straightforward, honest, and impactful. "This tells a beautiful story that can live on in numerous formats," noted one judge.