June 01, 2015
Upward Move: Manny Hernandez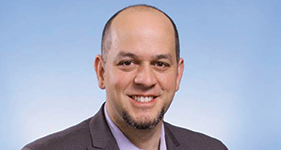 Manny Hernandez has a simple reason for working in the healthcare industry: its ability to influence people's lives for the better.
"Healthcare is where some of the toughest and most meaningful challenges lie for the future," he explains. "You can impact millions of lives in healthcare."
And for nearly eight years that's what he's been doing—leading the Diabetes Hands Foundation, a nonprofit diabetes advocacy group that offers diabetics a community to discuss their disease. In his new position he hopes to continue that legacy.
"Livongo Health has a lot of qualities that I was hoping for in this new chapter of my life," Hernandez says. "Being able to stay in diabetes, where so much needs to be done, after nearly eight years at the helm of the Diabetes Hands Foundation, having peers from whom I can learn and with whom I can partner to do great things for the community, and doing all of this in a very nimble start-up environment."
In that new environment he hopes to ensure that the Livongo for Diabetes "experience is seamless, easy to use and successful for our members and have more people exposed to it."
The attraction to Livongo was in part because of its offerings, Hernandez explains. "It has so many critical things: lowering the access barrier to checking blood sugar by offering unlimited test strips and offering a two-way connected glucose meter that instantly uploads blood glucose numbers. This last piece enables people with diabetes to get tailored messaging to support them in a contextual fashion and establish a dialogue with a diabetes coach on demand."
Hernandez credits his fulfilling career to an open, receptive mind-set: "Don't box yourself in as to what are things you are or aren't, the things you can or cannot do. Keep your eyes and ears open for signals and challenges that feel exciting to you and go after them. Yes, you may find yourself doing something very different than when you first started, but it will be rewarding."
Scroll down to see the next article