March 24, 2014
AbbVie art gallery: a glimpse into patient POV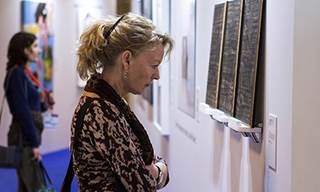 In most pharma companies' mission statements is a mantra that in one way or another, says, "Patients first"—a message that hasn't been helped by product recalls, settlements and lawsuits. But there are two sides to every story, and while it may be easy to cast pharma as a villain, that doesn't lessen the impact of its life-changing drugs and initiatives that shed light on how patients deal with a disease and brave its stigmas.
AbbVie's art gallery, "Perspectives—Art, Inflammation and Me" (click the slideshow tab above to view), which was featured at the ninth Congress of the European Crohn's and Colitis Organization (ECCO) from Feb.20 to 22 in Copenhagen, is one such initiative. As its title suggests, the gallery's aim was to allow viewers to see the disease's burden from a patient's point of view. It included sculptures and paintings, among other mediums.
"The exhibit was just a glimpse into more than 200 artworks—all of which were inspired by patients and artists, and strictly between the two of them, to help people better understand the burden of [psoriasis, Crohn's disease, rheumatoid arthritis and ulcerative colitis,]" Carlos Taveras, global public affairs, immunology communications, for AbbVie tells MM&M.
The AbbVie initiative was made possible by listening to stakeholders, he says, and motivated the drugmaker to take on a larger role within the community, and act as a patron for these artworks. "Through working with patients and the medical community, it became evident to us that the link which exists between these diseases is not really known."
"From a disease management point of view, it's important that the rheumatologist and dermatologist are actually talking to each other," he explains, "We thought it would be a good opportunity to elevate the awareness of all these diseases as a way to alleviate some of the burdens associated with them."
AbbVie currently markets Humira, a biologic medicine which is used to treat rheumatoid arthritis, Crohn's disease and ulcerative colitis. Humira brought in $9.7 billion in sales for 2013 in the U.S., according to IMS, which makes it the best selling biologic in the country, with Sanofi's Lantus second at $7.9 billion.
The Chicago drug maker called on professional artists as well as the Polytechnic University of Valencia and its network of universities' art students to facilitate these artist-patient collaborations. AbbVie found patients to participate through advocacy groups, which helped identify people affected by these conditions. The company's global footprint didn't hurt either, and was an important factor in bringing the two groups together from over 40 countries.
Taveras says the results were unprecedented, and the Abbvie exec says he and his team were "pleasantly surprised by the level of understanding that came through in some of the artworks, from two complete unknowns, sitting next to each other and discussing the day to day lives of patients."
"The ultimate goal is just helping people to alleviate some of the stigma around their disease and spark a debate." He adds, "they want change—that's what patients, and their families, want—better quality of care and understanding from their employers. This is just a small window into the collective message of more than 300 people involved."
The artworks often incorporated personal aspects of patients' lives. "One of the artists named Roberto met of one the patients whose family owned a quarry, and decided to use one of the family's stones in the actual artwork," Taveras notes, "We never imagined the types of connection people would make through this initiative."
Another, from Japan, deals with some of the language barriers of psoriasis. "One of the artists told us that the word psoriasis, means contagious, through the way you pronounce the word," Taveras says, "So when people with psoriasis in Japan tell others they have it—people who aren't familiar with the disease immediately think of something contagious."
One of the artists, Barbara Miller, offered MM&M her first-hand experience with the initiative over email. "This was an amazing experience for me. Tic-Tac-Crohn's [pictured in the slideshow above] allowed me to really look at the path in which Crohn's disease has taken me over the years. As I stitched both the positive and negative words, I felt a release in some of my emotional pain over the years.
"It was one the first times in 37 years I felt it was okay to admit that this disease has worn me down and humbled me in ways that I would never be able to express in words," she recalls. "On the same note, it also allowed me to rejoice in some of the strength I have gained over the years. As I stitched, each thread helped to pull me up. Each tiny little 'x' was me crossing out some of the agony of living with a chronic illness almost my entire life."
Scroll down to see the next article