February 02, 2015
Education efforts key to Vyvanse success in BED, analyst says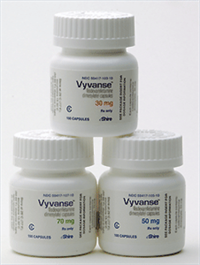 Shire announced Friday that its ADHD drug Vyvanse (lisdexamfetamine dimesylate) scored a label expansion for treating moderate-to-severe binge-eating disorder (BED) in adults. This approval makes Vyvanse the first drug approved to treat the disorder, which is characterized by compulsive overeating.
Jefferies analyst David Steinberg wrote in an investor note Monday morning that he estimates the US patient population for BED at 2.8 million and that unmet need in the category is substantial. He added that the drug's success largely hinges on Shire's ability to spread awareness of the disorder and its patient and physician education efforts.
Steinberg expects the Dublin-based drugmaker's commercial strategy to focus on "physician and patient education with substantial early efforts focused on disease awareness, unmet patient and physician detailing." He noted that the second step in Shire's marketing plan is likely a DTC campaign.
Steinberg also expressed some confidence that Shire will be able to make this expansion a commercially successful one. "While this market will largely need to be 'built' from the group up, Shire has a strong track record in this regard—as evidenced by its key role in establishing the ADHD (Adderall and Vyvanse franchises) category," he explained, estimating sales of $24 million in 2015 and $73 million in 2016.
The drugmaker won't be starting completely from scratch, however, as awareness around binge-eating disorder has picked up in recent years. The American Psychiatry Organization's DSM (Diagnostic and Statistical Manual of Mental Disorders) approved the inclusion of binge eating disorder in 2013, citing the need "to increase awareness of the substantial difference between binge eating disorder and the common phenomenon of overeating.
"While overeating is a challenge for many Americans, recurrent binge eating is much less common, far more severe and associated with significant physical and psychological problems," the organization wrote in a fact sheet about the new addition.
Scroll down to see the next article