September 17, 2014
Endo makes $2.2B bid for Auxilium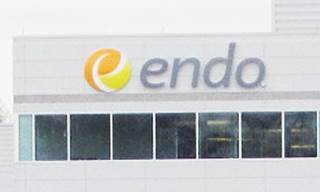 Endo International plc's unsolicited $2.2 billion bid to scoop up Pennsylvania drug manufacturer Auxilium Pharmaceuticals Inc. adds a new layer to the summer trend of US companies setting up shop abroad for tax benefits. Endo beat many peers in the tax inversion migration, by buying up a Dublin firm last year and declaring the city its new tax home, and is stepping in just as Auxilium was looking to do the same.
Regulators still need to approve Auxilium's proposed merger/tax inversion with Canadian firm QLT, but the deal would put the company in the same position as Endo, which still has US properties. In this case the merger involves creating what's been dubbed "New Auxilium," a company with a tax address in Canada and Auxilium's offices in Chesterbrook, PA. The Endo deal could shred this merger, and although Auxilium declared a dividend Wednesday, Bloomberg notes that this may not be a poison-pill effort to keep Endo at bay, but a ploy that will buy Auxilium time to ponder the offer and possibly dictate terms.
Endo's timing also comes as Auxilium has committed to a slim-down: the company announced last week that it was reorganizing, and that this move would include changes such as dialing down its sales force from three branches to two and eliminating 30% of its workforce. The firm said it expected these changes to be in place by the end of the year, and to result in around $75 million in annual savings.
An Endo-Auxilium deal would add 12 items to Endo's portfolio, including Xiaflex (collagenase clostridium histolyticum) which is indicated for Peyronie's disease, a curvature of the penis and Dupuytren's contracture which can cause fingers to curve. Auxilium is exploring additional indications, including cellulite, which Jefferies analyst Thomas Wei projected in a Wednesday research note could add $500 million in peak sales. Auxilium is also exploring Xiaflex for frozen shoulder syndrome.
Today's offer comes down to just over $28 a share, which Endo says amounts to a 40% premium over the average closing stock price, and which comes down to around 30% over the most recent closing price. Jefferies's Wei writes in his Monday assessment that this bid is too low, and asserts Auxilium's potential sales make the firm worth at least $34 a share as a standalone company. He adds that a Xiaflex cellulite approval would up that value to around $45 a share. "While we are highly encouraged by Endo's interest in AUXL, we believe the proposed acquisition cost leaves considerable value on the table," he wrote.
Scroll down to see the next article