September 18, 2014
Merck's weekly DPP-IV on par with daily Januvia: study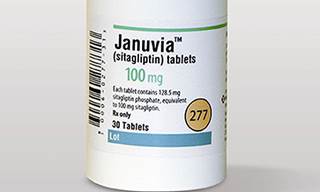 First results from Phase-III tests of Merck's weekly type 2 diabetes medication omarigliptin showed patients did as well with 25mg of the experimental medication as they did with a daily 50mg dose of Merck's Januvia (sitagliptin).
Merck unveiled the DPP-IV clinical trial results at the European Association for the Study of Diabetes Annual meeting Thursday.
The primary goal was to compare efficacy, safety and tolerability as compared to Januvia and placebo by assessing HbA1c1 levels after 24 weeks on therapy. Patients showed a significant change in levels compared to placebo and "similar efficacy" to Januvia. Merck said in a statement that the experimental DPP-IV had "no meaningful differences in the incidences of adverse events" compared to either placebo or Januvia, although there was a greater incidence of nasopharyngitis, or symptoms such as sneezing, runny nose or congestion compared to Januvia, but less than placebo.
Januvia's patent runs until 2022, but the daily medication's financial heft is one Merck needs to prepare to replace: the drug accounted for $11.4 billion in sales between 2011 and 2013. A weekly omarigliptin would run up against competition such as Boehringer Ingelheim's daily DPP-IV Tradjenta (linagliptin). Potential sales comparisons are unknown, as neither BI nor Lilly has provided the brand's sales in their respective annual reports.
The opportunity to nab patients is broad — the Centers for Disease Control and Prevention reported last month that the risk for diabetes has jumped 40%, yet the potential within each class of diabetes medications makes capturing prescriptions challenging. EVP and president of Merck's global health division Adam Schechter, for example, repeated during Merck's second-quarter earnings call that expanding DPP-IV use now comes from encouraging patients to use these medications before going on sulfonylureas, and that Merck is making progress.
Scroll down to see the next article