April 24, 2015
Tecfidera sales slow, Biogen to maintain "significant" sales force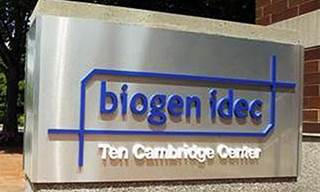 Biogen's blockbuster multiple-sclerosis drug Tecfidera, continued to add patients in the first quarter of 2015 but at an overall slower rate than the last quarter of 2014, the company said.
Biogen executives cited a shrinking MS market and uptake for Plegridy, another MS drug marketed by Biogen, for the adoption decline, saying it likely swayed some switchers from its older product, Avonex, who could have gone to Tecfidera.
Tecfidera reported US sales of $648 million for the quarter, up from $480 million in the same period last year. Plegridy was approved by the FDA in August 2014; the agency approved Tecfidera in March 2013. MS sales make up about 80% of Biogen's total revenues.
Tony Kingsley, Biogen's EVP of global commercial operations, told investors that Biogen will continue to "leverage the full capabilities of its commercial organization" to communicate the benefits of Tecfidera, including "maintaining a significant sales force focus, executing patient and physician programming with updated messaging and increasing our voice across both print and digital media."
FDA changed the label for Tecfidera in November after a patient developed a rare brain infection called progressive multifocal leukoencephalopathy and died while taking the drug. Kingsley touched on this, noting that internal market research conducted by Biogen suggests "physician intent to prescribe may be improving; we believe data indicate we're assisting physicians in putting the updated label [for Tecfidera] in context."
A patient taking a competitor's oral MS drug, Gilenya, manufactured by Novartis, was diagnosed with PML in February. PML is a reactivation of the John Cunningham virus, which typically stays dormant in most healthy individuals because their immune system keeps it at bay.
Sanford Bernstein analyst Geoffrey Porges asked Biogen if the company expects this new PML case to have any effect on the outlook of Tecfidera. Kingsley said physicians have reported patients have become more hesitant to take the drug but added that it's "not clear that physicians, at least from the ones I talked to, had a dramatically different perspective themselves."
Doug Williams, Biogen's EVP of R&D, added: "Our assessment is that there is no change in the benefit/risk profile, it's pretty much status quo for the moment."
Biogen reported total revenues of $2.6 billion for the first quarter of 2015, an increase of 20% from the same period last year. The drugmaker reported total MS sales of $2.1 billion for the quarter, up from $1.7 billion in the same quarter last year. Biogen reported profit of $822.5 million for the quarter ending March 31.
Scroll down to see the next article