February 17, 2009
TriLipix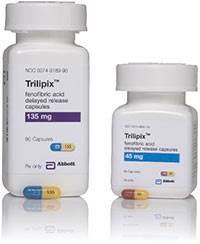 Product
TriLipix
Approval Date
December 15, 2008
Company
Abbott Laboratories
Class
Fibrate
Indication
Adjunct to diet: In combination with a statin, to reduce triglycerides (TG) and increase high-density lipoprotein cholesterol (HDL-C) in patients with mixed dyslipidemia and CHD or a CHD risk equivalent who are on optimal statin therapy to achieve LDL-C goal; as monotherapy to reduce TG in severe hypertriglyceridemia, and to reduce elevated LDL-C, total cholesterol (total-C), TG and apolipoprotein B (Apo B); and to increase HDL-C in primary hyperlipidemia or mixed dyslipidemia.
Active Ingredient
Fenofibric acid
Agency Roster
Intouch Solutions
RTC Relationship Marketing (RTCRM)
Marketing Strategy/Execution
TriLipix will be marketed for use in combination with a statin along with diet to lower triglycerides and LDL (bad) cholesterol, and increase HDL (good) cholesterol in adults.
Physician Outlook
TriLipix is Abbott's next-generation fenofibrate; one that Abbott is hoping will help the Company face Tricor generic competition in 2011. Achieving FDA approval now allows Abbott the opportunity to transition its current Tricor patient load to TriLipix, hoping that the fenofibrate's unique and specific indication for use with a statin will be a competitive advantage. Abbott's challenge is to convince managed care organizations to pay for the agent – and in 2011, over a generic – though labeling currently states that it offers no incremental CV benefit over a statin alone. Abbott is also planning a fixed-dose combination of TriLipix with rosuvastatin, AZ's Crestor, which will help tout the ability to address all lipid parameters for patients who need it.
–Anna Marie Napolitano, VP, category business leader, cardiology, GfK Market Measures
Also in the Pipeline (courtesy of Adis R&D Insight)
Drug: AEGR-733
Manufacturer: Bristol-Myers Squibb/ Aegerion Pharmaceuticals
Indication: Hyperlipoproteinaemia type II
Active Ingredient: AEGR-733
Phase: III
Drug: AVE5530
Manufacturer: sanofi-aventis
Indication: Hypercholesterolaemia
Active Ingredient: AVE5530
Phase: III
Drug: Pravafen
Manufacturer: Galephar Pharmaceutical Research/ Sciele Pharma
Indication: Hyperlipidaemia
Active Ingredient: Fenofibrate/pravastatin
Phase: III
Drug: Cordaptive
Manufacturer: Merck & Co
Indication: Hypercholesterolaemia
Active Ingredient: Laropiprant/niacin
Phase: Registered
Drug: MK 0524B
Manufacturer: Merck & Co
Indication: Hyperlipidaemia
Active Ingredient: Laropiprant/niacin/simvastatin
Phase: III
Drug: ISIS 147764
Manufacturer: Isis Pharmaceuticals/ Genzyme Corporation
Indication: Hypercholesterolaemia
Active Ingredient: Mipomersen sodium
Phase: III
Drug: MPC-028
Manufacturer: URL Pharma
Indication: Hypercholesterolaemia
Active Ingredient: MPC 028
Phase: Preregistration
Drug: Itavastatin
Manufacturer: Nissan Chemical Industries/ Choongwae Pharma Corporation
Indication: Hypercholesterolaemia
Active Ingredient: Pitavastatin
Phase: Launched
Drug: ABT 143
Manufacturer: Abbott Laboratories
Indication: Hyperlipidaemia
Active Ingredient: Rosuvastatin/choline fenofibrate
Phase: III


Source: Wolters Kluwer Health
Recent MM&M Coverage
Abbott, AZ extend co-promotion to Trilipix
Abbott, AZ team up to promote Crestor
AstraZeneca teams up with Abbott on Crestor co-promote
Pharmacology
Elevated blood levels of total-C, LDL-C, and Apo B and decreased levels of HDL-C have been shown to increase the risk for atherosclerosis. Fenofibric acid, the active moiety of fenofibrate, is a lipid modifying agent that increases lipolysis and the elimination of TG-rich particles from plasma by activating lipoprotein lipase and reducing the production of apolipoprotein CIII.
TriLipix can be used in combination with a statin in patients with mixed dyslipidemia and CHD or a CHD risk equivalent, which include other forms of atherosclerotic disease, diabetes, and multiple risk factors that confer a 10-year risk for CHD >20%. It has not been established that the use of TriLipix reduces morbidity and mortality more than the use of a statin alone.
Clinical Trials
Three 12-week Phase 3 studies and one 52-week, open label extension study were conducted to evaluate safety and efficacy of this product. In the Phase 3 studies, TriLipix was studied in combination with rosuvastatin, atorvastatin or simvastatin. A total of 1,895 patients who completed one of the Phase 3 studies were then treated in the open-label study in which 568 patients completed 52 weeks of treatment with TriLipix plus a statin. The primary endpoints for each of the studies were the mean % change from baseline to final value in HDL-C, TG, and LDL-C. The results of these studies indicated that combination therapy with low-dose and moderate-dose statins significantly improved HDL-C and TG compared to statin therapy alone, and significantly improved LDL-C compared to TriLipix alone. The use of each of the combinations and the statins resulted in significant reductions in LDL-C.
Adverse Reactions
Headache, back pain, nasopharyngitis, myalgia, GI upset, URI, elevated LFTs, serum creatinine; myopathy, rhabdomyolysis, hematological changes (eg, hgb, hct), cholelithiasis, pancreatitis.
Adults
Mixed dyslipidemia, primary hyperlipidemia: 135mg once daily. Hypertriglyceridemia: 45–135mg once daily. Titrate at 4–8week intervals; max 135mg/day. Mild to moderate renal impairment: initially 45mg once daily.
Children
Not recommended.
Contraindications
Severe renal dysfunction (including dialysis). Active liver disease. Primary biliary cirrhosis. Gallbladder disease. Nursing mothers.
Precautions
Renal failure, diabetes, hypothyroidism, elderly: increased risk of myopathy with concomitant statins. Monitor liver function; discontinue if LFTs >3xULN persist. Discontinue if markedly elevated CPK levels, myopathy, or gallstones occur. Pregnancy (Cat.C).
Interactions
Avoid with max doses of a statin (myopathy). Potentiates warfarin (monitor). Separate dosing of bile acid sequestrants. Caution with cyclosporine.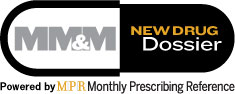 Scroll down to see the next article