September 03, 2015
New data expected at lung-cancer conference on experimental drug combos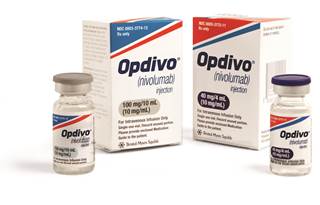 The World Conference on Lung Cancer, scheduled to begin Sunday, will offer doctors and investors new data about the latest oncology drug pairings, as drugmakers test out the most effective treatments for lung cancer in the first-line setting.
Evercore ISI analyst Mark Schoenebaum wrote in an investor note that the winning combination for the deadly disease will likely be the one that justifies "the additional toxicity of an additional drug," by performing well across populations, or excelling in a subset of patients—such as those whose tumors have high expression of the PD-L1 protein.
Data from these pairings will be closely watched: Bristol-Myers Squibb's Opdivo with Yervoy; AstraZeneca's MEDI4736 with tremelimumab; and Roche's atezolizumab with a chemotherapy agent.
Opdivo received FDA approval in second-line lung cancer in March after receiving approval in advanced skin cancer in December 2014.
Schoenebaum did caution, however, that he believes there will be insufficient data to determine which combination strategy will prove superior: pairing antibodies with a chemotherapy, or pairing those antibodies with CTLA-4 inhibitors, like tremelimumab and Yervoy, when treating lung cancer in the first line.
Bristol-Myers Squibb said it will present new data for the company's investigational combination of CTLA-4 inhibitor Yervoy and PD-1-blocking antibody Opdivo, specifically studying how effective certain dosings are in lung-cancer patients.
Schoenebaum said he expects to see more information about "overall response rate, possible depth of response and some overall survival data," cautioning, however, that BMS will likely only have six months of results to share.
That limited data range has tempered his firm's expectation for the data. "We don't believe there would be sufficient data to convincingly assess the added benefit from the combination," he wrote.
How these antibodies perform with chemotherapy agents will be further scrutinized with new data from Roche.
Schoenebaum said they hope to see if the impressive response rates shown from atezolizumab when paired with chemotherapy "hold up when additional patients are added" as well as the effect in tumors when chemotherapy is stopped after four to six cycles.
BMS noted on its second-quarter conference call that it saw little difference in survival among patients when adding chemotherapy to an Opdivo regimen.
The conference kicks off in Denver, Colorado, on Sunday.
Scroll down to see the next article