February 01, 2009
Communications Media, Inc. (CMI)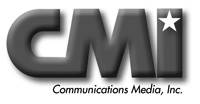 Communications Media, Inc. (CMI)


2200 Renaissance Blvd. 


Suite 160


King of Prussia, PA 19406 

Phone: 484-322-0880
Fax: 484-322-0881
Web: www.cmimedia.com
E-mail: info@dmddata.com

 



Ken Jones, Vice President, General Manager
kenhjones@cmimedia.com

Communications Media, Inc. (CMI) is an advertising media and promotion planning organization focused primarily on the pharmaceutical and related healthcare industry.  CMI develops, implements, and evaluates non-personal professional and direct-to-patient media strategies—including interactive--for its clients that are designed to produce the highest possible return on the applied promotional media investment.
Scroll down to see the next article