March 22, 2012
Guide to Interactive Companies
Beacon Interactive
—A Division of Beacon Healthcare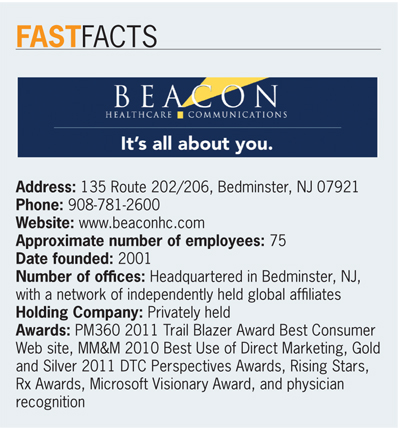 Company Profile
Optimization, platform-agnostic, self-quantification, phygital, crowd sourcing, ­phishing, sniffer software—
Buzzwords abound in the digital realm. But at Beacon Interactive you won't need a glossary to speak digital with us. After all, big words mean nothing if there's not a big idea behind them.
We understand that physicians, payors, and consumers are becoming hyper-connected to digital content and to each other. And we know how critical multichannel marketing is to reaching them all. But more importantly, we'll help you find the right channels…those your customers use. That's the way to create exactly the right kind of buzz. And if any new acronyms crop up as we're getting enthusiastic about an idea for your brand, we apologize beforehand and promise to explain the idea in plain English.

Cross-platform agnostic technologies that ­optimize retargeting… WHAT?
Whatever platform and technology is required, we can make it sing. Our strategists and creative teams work with you to make telling the right story to the right audience so useful that it benefits the patients, HCPs…and of course your brand.

Be the driver behind your mobile initiatives
iPhones, Androids, iPads, Blackberries—nearly two-thirds of US physicians use a mobile device for medical or clinical purposes (according to Google). This means information is accessible everywhere we are, or at least where your mobile device is. And that's a huge opportunity for healthcare marketers. But just because you have content on the Web, doesn't mean it is ready for prime-time mobile. Our specialists can make your mobile devices work brilliantly for your brand.
CRM. Customer Relationship Magic
We deliver customized, behavior-changing solu­tions…from acquisition to retention through persistency and customer loyalty programs. Health­care marketers are seeking to outsmart, not outspend, their competition. So we identify the right target, the right channel(s) and the right message. And since our world is ever changing, we monitor and evolve those messages and channels to personally touch every stakeholder.

At Beacon Interactive, it's all about you, your brand, and your success. Our promise to our clients and customers can be summed up in three words: "We hear you." We listen. We understand what you are going through, because we've been there—as clients, patients, healthcare professionals, and agency folks…a true 360° approach.