March 22, 2012
Guide to Interactive Companies
Medical Marketing Service, Inc. (MMS)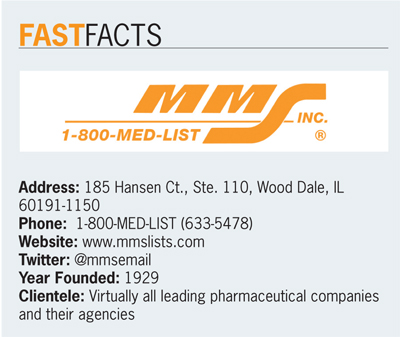 Company Profile
Reach more than a million health care professionals (HCPs) with MMS email marketing service.
• Med-E-MailSM reaches 800,000 physicians' email addresses.
• AAPA-E-MailSM reaches nearly 60,000 physician assistants (PAs).
• NP-E-MailSM reaches 80,000 nurse practitioners/ advanced practice nurses.
• NEW! ASHP-E-MailSM reaches 50,000 hospital/health system pharmacists.
• Hosp-E-MailSM reaches 175,000 hospital personnel and executives.
• Dent-E-MailSM reaches 18,000 dentists.
MMS is dedicated to maximizing the power of email to HCPs. We're the industry leader in email marketing to the health care industry because we offer unique advantages that separate us from our competition:

• Maximum reach—MMS reaches more HCPs than does any other email marketing service we know of with an unsurpassed 97 percent deliverability because we use:
—
Double-permissioned emails
from physicians and other professionals at their preferred address, whether it be office or personal
—
State-of-the-art delivery infrastructure
to get your message past filters and in the right inbox, the one recipients actually use
• Maximum relevance—Because our email is based on the most robust databases, including the American Medical Association (AMA) Masterfile, we can pinpoint perfect prospects for your promotions.
• Maximum response—MMS gets better open rates and click-through rates than any other email marketing service we know of because great reach plus great relevance equals great response.
• Maximum ROI—Put them all together—maximum reach, relevance and response—and you get maximum return on investment.
MMS Email Campaign Benefits
Sophisticated Database—Collected from a variety of sources to ensure maximum reach that includes healthcare associations, medical publishers, PPO networks and physician recruitment companies.
Fast Turnaround—Turnaround time is 2 to 4 work days, but we can complete same-day requests.
Email Broadcast Filters—MMS checks each campaign for spam triggers before sending the broadcast to prevent your message from being marked as spam.
Match by Targeted File—MMS can target HCPs by physician data, including files with Medical Education (ME) Numbers (AMA-proprietary ID number for all U.S. physicians), or by National Provider Identification (NPI) numbers.
Success Reports—Our aggregate reports of sent emails, received emails, open rates and click-through rates are sent to you as a complimentary service after each broadcast.
Dedicated Staff Expertise—MMS has been a respected physician mailing list provider for 80+ years. We expanded our services more than 10 years ago to include email marketing campaigns.
For a personal consultation, contact your MMS Business Development Manager at 1.800.MED.LIST (1.800.633.5478) or sales@mmslists.com. Follow us on Twitter @mmsemail for breaking news and tips on maximizing email ROI!