July 05, 2016
Navicor


By all accounts, in his second full year as president of The Navicor Group, Dave Querry did a fine job shepherding the Columbus-based shop into a new era of expansion and growth. Last year's highlights included a 25% revenue jump and a fast start for the newly opened Philadelphia office, which has already outgrown its space and is set to move into bigger offices this summer.
To hear Querry tell it, the growth was spurred in large part by the agency's longstanding emphasis on oncology. "Our continued expansion is further validation of the differentiated value of an agency focused on oncology and immunology," he explains. "We have a solid foundation."
Navicor enjoyed significant organic growth, including new AOR assignments on three hemostasis products and was named AOR for Tesaro (on ovarian-cancer treatment Niraparib). Amgen, for which Navicor had done various project work in the past, awarded the firm global AOR status on four brands in its oncology biosimilar portfolio and new project work on a melanoma treatment. Meanwhile, less than two years after a client-side management change resulted in the loss of AOR work on a Seattle Genetics product, the company re-engaged Navicor for project work on a pipeline immuno-oncology drug.
New relationships bloomed with a number of clients, including Entrinsic and R-Pharm (AOR assignments for both), Loxo, and the Multiple Myeloma Research Foundation. In order to service the raft of new business, Navicor added 30 new employees to its staff in 2015 and then added seven more in the first few months of 2016, bringing the total number to 90.
Querry attributes some of the growth to the resources available to Navicor as a member of the sprawling inVentiv Health network. "InVentiv offers everything companies need to commercialize. We've gained a lot of traction by showing clients and prospective clients the value of working with cross-functional inVentiv teams worldwide," he says, pointing to the new Amgen business as a prime example of the system in action.
Querry notes that there are currently more than 325 oncology products in late-phase development from around 80 companies. The opportunity to represent multiple products for given tumors will only increase as treatments continue to be further specialized around unique genetic signatures, he points out.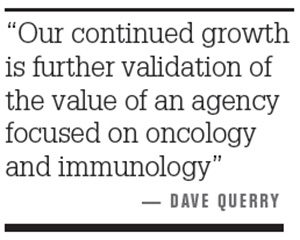 And then there's the pricing part of the equation. "Pricing pressures are building, and industry will need to find new ways to develop and market therapeutics in ever-smaller patient populations," Querry explains. "As part of inVentiv, Navicor can offer a robust suite of services that can really help as the industry has to find new ways to operate."
In the wake of Navicor's impressive 2015, Querry reports a continued increase in the number of RFPs and inquiries from potential job candidates. He considers both of those figures important indicators of agency health, adding that the Philadelphia area has proved fertile ground for both new business and recruiting.
Look for Navicor to explore the possibility of opening a third office sometime in the not-too-distant future. "I believe in a model that is based on an organizational footprint of three or four firewalled offices, each with 100 people maximum," Querry says. "Anything above 100 in a single office tends to challenge the cultural integrity and connective tissue — and culture is important. I take it very seriously and want to ensure employees really know one another. The more we're interconnected in a family-type environment, the better the work."
Scroll down to see the next article