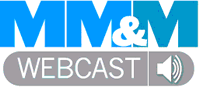 MM&M is pleased to provide our readers access to our archived webcasts as well as the opportunity to register for future webcasts.
Upcoming Webcasts
Webcasts

Join us for a fast-paced, informative webinar where we'll bust the myths, fill in the holes and answer many of the questions about what is and isn't possible in mobile advertising today
Webcasts

During this seminar, attendees will learn how advanced data analytics can be applied to gain a measurable competitive advantage.
Webcasts

Join Talitha Lynch, VP of global medical affairs operations at a top 10 global pharmaceutical company, and Robert Groebel, VP, Global Medical Strategy, Veeva, as they discuss how to foster meaningful collaboration and strategic information sharing across the organization.
Webcasts On Demand